West Bengal industry minister Mr. Partha Chatterjee had to rush in to Durgapur yesterday, after protest led by Trinamool Congress stopped production of Coal Based Methane (CBM) by Essar Oil on 11th August from its wells in Akandara village in Durgapur.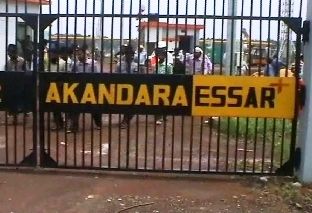 Mr. Chatterjee, accompanied by agriculture minister Moloy Ghatak and top officials of Essar Oils, was seen waiting for village leaders for more than an hour at the ADDA (Asansol Durgapur Development Authority) guesthouse at City Centre yesterday afternoon. The leaders of the groups arrived at the guesthouse one by one. Prior to that, the ministers held a closed-door meeting with the top Essar officials – Mr. Apoorva Ranjan (Project head) and Mr. Debjit Kar (Communication head).
The minister "cautioned" Trinamool leaders against disrupting industrial work. He also asked Essar Oil officials to look into villagers' allegations that effluents discharged during extraction of coal-bed methane (CBM) were contaminating ponds and agricultural land in the adjoining areas.
Minister Partha Chatterjee said: "I have come here on the instructions of the chief minister. She is trying hard to bring industry to Bengal and create an industry-friendly ambiance. I have cautioned our party leaders against instigating villagers to stop industrial work, including that of Essar."
Chatterjee said Essar "would have to pay compensation according to law" if effluents discharged while extracting CBM were indeed polluting ponds and agricultural land. "At the same time, the villagers will have to give up the practice of stopping work at CBM pits," he added.
Work at the stalled Essar project site in Akandara village was restored to normalcy.
Essar entered into a 35-year agreement with the Centre for exploration and extraction of Coal bed Methane in Raniganj Coalfields area in July 2002.
The company has consistently been facing locals' ire, as two Trinamool Congress groups at loggerheads have been blocking the project roads and raiding the project sites in Jathgoria, Akandara and Nachan villages, raising demands for absorption, compensation, and welfare work in the project adjacent villages.
On Sunday, (August 11), over 200 villagers led by the Trinamool peasants' cell block president Ajijul Middya, stopped production of CBM by Essar Oil, protesting discharge of effluents contaminating ponds and agricultural fields and demanding jobs as compensation. They also accused the company of occupying vested plots illegally.
Work in all the eight wells drilled in the village was suspended. Mr. Middya heads the Trinamool Congress's faction led by Agriculture minister Mr. Ghatak and is at loggerheads with the rival faction headed by Mr. Prodyut Banerjee, swearing allegiance to Rabirajan Chatterjee's group.
Besides the leaders of the rival groups of Akandara village, Trinamool Congress' industrial district secretary Debdas Bakshi and Kanksa block president Ashoke Mukherjee were also summoned by the industry minister for the meeting at the ADDA guest house yesterday, to resolve the deadlock.
According to Trinamool sources, Middya was "called separately and scolded" by Chatterjee and "advised to concentrate on his teaching profession". Middya is a primary school teacher.
Essar project director (exploration and production division) Apoorva Ranjan said the company was happy with the outcome of the meeting. "We are happy with the advice the industries minister has given us."
Now it is to be seen how the fighting rivals come in term with the minister's advice and resist themselves from stopping Essar project work at their will.
Likes
(

0

)
Dislikes
(

0

)