Durgapur once again witnessed militant trade unionism by INTTUC at its best. Barely a day after the state conference of INTTUC in Durgapur, from where leaders of the labour wing of Trinamool Congress gave a call that no high handedness will be tolerated, the officials of a Kolkata based company were allegedly assaulted by INTTUC members.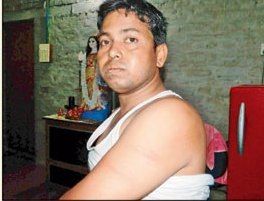 The managing director of a Calcutta company that runs an amusement park in Durgapur has accused Trinamul union activists of assaulting him yesterday, after he barred 17 employees from working today because they skipped work yesterday for an INTTUC meeting.
Later this evening, Trinamul secretary-general Partha Chatterjee said in Calcutta: "I am not aware of what happened in Durgapur today. I have already made it clear that we will not tolerate such highhandedness. We are trying to create a peaceful ambience for entrepreneurs in Bengal."
Santosh Das, the assistant manager of Exalt Services that runs the most popular amusement park in the heart of the Steel Township of Durgapur, said the 17 workers yesterday returned to the park with some INTTUC activists after they were denied entry earlier in the day.
"I had been told by the managing director Debashish Roy, not to allow the workers to join duty because they skipped work on Sunday without informing us. They had gone to the INTTUC state conference. But instead of listening to me, they started hurling abuses," Das said.
He added that the trade union activists, led by Asish Chakraborty, the assistant secretary of the Trinamul-backed Durgapur Steel Plant Thika Sramik Congress, took him to the INTTUC office 2 Km away and assaulted him. "They slapped me, took away my cellphone and forced me to go with them on a bike to the union office on Kalidas Road. There, they hit me with sticks. They asked me to call up the managing director and tell him to come over to the office," said Das, who suffered bruises on his shoulder and back.
Managing director and co-owner of Exalt Services Debasish Roy said he rushed to the union office with senior manager N.C. Mandal, but both of them were assaulted after being locked up there. When the INTTUC activists went outside the union office, he called up police who rescued the three after an hour.
"I told them that the employees were not allowed to work today because they had not informed us about their absence. The company rule says that no employee should skip work without informing unless it is an emergency. I told the INTTUC activists that the 17 are my employees and I have every right to take action against them. But I was beaten up along with my manager Mandal," said 45-year-old Roy.
The managing director, who lodged a complaint at Durgapur police station later in the evening, also accused the police of asking him to settle the dispute through talks with the INTTUC activists.
Asked about the allegation, additional deputy commissioner of police Sunil Yadav said: "I don't know if any policeman had advised the complainant to settle the matter through talks. I will look into this. We have started a probe on the complaint of assault."
Roy also alleged that the INTTUC had been trying to form a union in the park for the past two years.
The 17 workers, most of whom earn around Rs 4,000 a month, said they would lose three days' pay. "We work on off days to supplement our income. On Saturday, we went for a conference in Singur. Yesterday, we attended the Durgapur meeting. Today, we were not allowed to work," a worker said.
Asish Chakraborty, who was accused of leading the assault, denied the allegation. INTTUC Burdwan chief Pravat Chatterjee refused comment. The INTTUC leadership in Burdwan, however, remained tight-lipped about the incident.
Likes
(

0

)
Dislikes
(

0

)