Post assembly election Durgapur is witnessing some major clashes between supporters of Trinamool Congress (TMC) backed INTTUC and National Congress backed INTUC. Several incidents that have occurred in various parts of the city in the last one month have clearly been an indication of strained relation between TMC and Congress.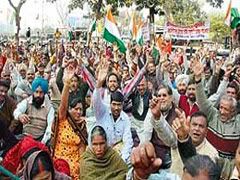 Last Friday Mr. Umpada Das, a prominent trade union leader of INTUC of Durgapur Project Limited (DPL) has been badly beaten by supporters of INTTUC. Mr. Das suffered serious injuries and had to be admitted in hospital.
A few days back the incident of INTUC leader of Alloy Steel Plant (ASP), Mr. Bikash Ghatak being man handled by supporters of INTTUC had been widely condemned. Mr. Ghatak is a national level leader of INTUC. Not only was Mr. Ghatak pushed and humiliated, INTTUC leaders of ASP even took control of the union office of INTUC and hoisted their flag there. However widespread media report of such unwanted incidents and intervention by Mr. Apurba Mukherjee, the new MLA of Durgapur forced the local INTTUC leadership to withdraw from the union office of INTUC. In another incident at Kanjilal Avenue in front of ABL gate, supporters of INTUC and INTTUC had a long scuffle in a row over engaging contract workers in the factory of ABL.
Though Congress and Trinamool Congress fought the recently held assembly election forming an alliance and successfully defeated the Left Front to form government, yet there is a strong sense of disbelief among the supporters and leaders of the two parties in this industrial belt. INTUC has a strong support base in the industrial town of Durgapur and is the second largest trade union party after CITU. The recent win by TMC candidates in both the assembly seats of Durgapur have made the local TMC leader to belief that they are the largest trade union party of Durgapur and should control the large number of industries of Durgapur. The belief that INTTUC, and not INTUC is the alternative of CITU is perhaps the reason for such clashes between supporters of the two trade union parties.
Likes
(

0

)
Dislikes
(

0

)