Agitation and protest dharna continues at Durgapur NIT for the second consecutive day. Trouble which started with the librarian of the NIT being asked by the registrar to take premature retirement or continue with a demotion has now taken a turn towards the very appointment of the registrar.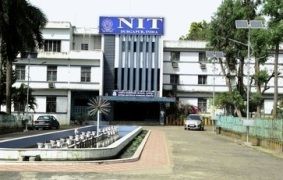 Teachers and students of the centre-run NIT Durgapur yesterday wrote to the Human Resource Development (HRD) ministry questioning the appointment of the registrar. They alleged that the appointment of Colonel (retired) Prabhdeep Singh Sandhu at 59 violated the Ministry's rule that allow the selection of only those who are below 57, for the registrar's post.
"A person can be appointed as NIT registrar only till he is 57. Mr. Sandhu was 59 when he was appointed the registrar last year. His appointment was not discussed in any of the board's meeting. Mr. Sandhu should step down immediately," a professor of Civil Engineering said holding a copy of the rule. The teacher said a copy of the letter demanding the immediate removal of the registrar has been sent to the HRD Ministry and has also been forwarded to the NIT's Board of Governors. At least 2500 students and teachers of NIT Durgapur signed the letter.
Asked about the allegation Mr. Sandhu said that the age limit was relaxed in his case. Mr. Sandhu said, "I have 6 years of experience as the registrar in various institutes. That's why I was appointed at 59. I am well aware of the Ministry rule which limit the age of such appointment to 57 years."
The registrar further claimed that a section of teachers and students had been trying to create disturbance in institute." I have been trying to point out the anomalies here. That's why a section of the faculty is trying to malign me. They are also instigating the students," the registrar pointed out.
Registrars at the NIT's are appointed by the directors who are selected by HRD Ministry. Repeated calls to Mr. Tarakeswar Kumar the NIT Durgapur Director went unanswered.
Although the HRD Ministry rule allows the appointment of registrar till 57, however every NIT lays down their own age limit for such posts. According to the advertisement published for the registrar's post at NIT Durgapur last year, the maximum age was fixed\at 52. Then how was Mr. Sandhu at 59 appointed for the post remains a mystery.
Relation and a section of three NIT teachers and students turned sour when the Librarian alleged that the registrar was repeatedly asking him to premature retirement or accept a demotion. The situation turned worse when the registrar lodged the police complaint against 3 teachers and the librarian Mr.Manik Mandal.
The teachers and the students had been sitting on a dharna inside the NIT Campus from 21st of March, protesting the "high-handedness" of the registrar.
Likes
(

0

)
Dislikes
(

0

)