Making money online is a dream which every net surfer dreams of. Most people believes that online earning is something which is very hard to achieve and in most cases lands on time wastage only. But the truth is something different and the scope of making money online is huge and in fact limitless. It hardly matters where you live and waht is your educational qualification is, as far making online money is concerned. Some very basic knowledge of computer operation is all that you need to make online money.The mistake that most people do is that they search for easy ways of earning money online, without spending time to surf the net and have a overview of the whole process and ways of earning money online.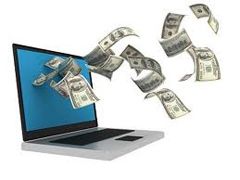 I am very definite and certain that a small town like Durgapur is not short of people who wish to make online money. Many of us hardly knows that there are many people in Durgapur who are already making huge online money or are earning handsomely. In a series of write up I will like to share my knowledge and experience about various avenues of making money online. Here is the first comprehensive installment of my knowledge which I wish to share with everyone. Hope this will help not only the people of Durgapur to earn money online but others as well who wish to make money online.
Crowd-sourcing is one of the best and simple way to make money online and Amazon Mechanical Turk (MTurk) is one of the best and proven site for this. In this article I will give a brief and comprehensive outlook about Amazon Turk, which will help in having an overview of the whole thing.
Amazon Mechanical Turk (MTurk) is a crowdsourcing Internet marketplace that enables computer programmers (known as Requesters) to co-ordinate the use of human intelligence to perform tasks that computers are unable to do. It is one of the suites of Amazon Web Services. The Requesters are able to post tasks known as HITs (Human Intelligence Tasks), such as choosing the best among several photographs, writing product descriptions, or identifying performers on music CDs. Workers (called Providers in Mechanical Turk's Terms of Service) can then browse among existing tasks and complete them for a monetary payment set by the Requester. To place HITs, the requesting programs use an open Application Programming Interface, or the more limited MTurk Requester site. Requesters are restricted to US-based entities.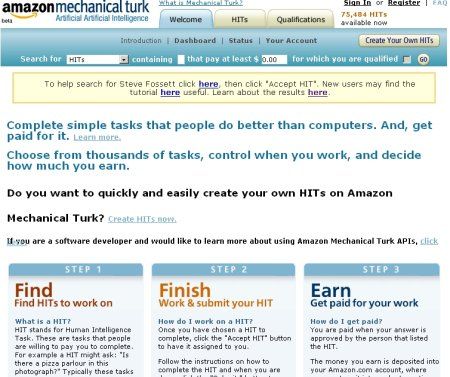 Amazon Mechanical Turk is based on the idea that there are still many things that human beings can do much more effectively than computers, such as identifying objects in a photo or video, complete a small survey, rate or like a website, share the contents on social media sites, transcribing audio recordings, finding some data online, review a product or site and hundreds of different tasks. Earlier, to complete such tasks you need to hire people on temporary basis which is time consuming and expensive but same thing on Amazon Mechanical Turk is the easier, faster and cheaper.
Requesters can ask that Workers fulfill Qualifications before engaging a task, and they can set up a test in order to verify the Qualification. They can also accept or reject the result sent by the Worker, which reflects on the Worker's reputation. Currently, Workers can have an address anywhere in the world. Payments for completing tasks can be redeemed on Amazon.com via gift certificate or be later transferred to a Worker's U.S. bank account. People in India will receive money by INR cheques. Requesters, which are typically businesses, pay 10 percent of the price of successfully completed HITs to Amazon.
What's the difference between Worker & Requester?
A requester is a person, website owner or a company who provides the tasks to mTurk so that thousands of its workers can see these tasks and complete them. A worker is a person who wants to make money on mTurk & completes the tasks provided by requester.
What is a HIT?
Human Intelligence Task, or HIT, is nothing but task provided by the requester to be completed. On successful completion of the task, worker gets rewarded with money.
How do I join mTurk as a Worker?
Visit mTurk signup details for joining this.
How do I complete a HIT?
One you signup, login to your account and view the thousands of HITs available there. Click the "Accept HIT" button while viewing the HIT. Complete the HIT according to its instructions, fill out the form with the results, and click the "Submit HIT" button. After you submit your results for the HIT, another similar HIT will be presented for you to accept.
How do I receive my money?
Once you complete the HIT, the requester will check this and if satisfied approves your HIT. Once Amazon, checks the approval from requester, it transfer the money from requester's prepaid balance to worker's Amazon payment account. You can check everything on the dashboard like how many tasks you have completed successfully, how many rejected, how much is the balance etc. Once your account reaches more than US $10, you can ask to withdraw your payment. Its better, you withdraw after every US $100 as there is $4 deduction every time you request a withdrawal. People in India will receive money by INR cheques.
What is a bonus payment?
A bonus is an extra incentive from a Requester. If a requester feel your work is excellent and better than what he wanted, he may choose to pay you extra commission for the same reward you already paid for.
How do I receive my payment in INR if I am an Indian?
Its good if you are from India. After US dollar, Amazon has INR as the only second currency option and sends all the cheques in INR to Indian people. You will need to provide your birth proof, PAN card, voting card, passport or any other ID proof issued by Govt. You can scan this and send by email or mail your documents to mTurk mailing address. All the information you need to sign up to receive payments in Indian Rupees is provided on the Account Settings page. After your submitted information is verified, you will be eligible to withdraw your money in INR. Amazon will send you the cheque payment on your given verified address.
What should I do, if my task gets rejected?
A Requester has the right to reject the task if he thinks, its wrong or not satisfactory. But if you feel your answer was right or you did the task successfully, you can directly contact the requester. In most of the cases, requester approves the work if a worker contact him and justify his work.
How much time do I have to work on a HIT?
Requesters can specify a HIT's "Allotted Time" or how long a worker can hold on to a HIT once he accept the HIT. So once you accept the task, its your responsibility to give the priority to that task and complete that in the allotted time. In many cases, the worker accept this but does not complete so other workers who wants to complete that have no option to complete that. In this case neither you nor other worker completed the HIT and requester does not get his task completed in the reasonable time period. So this ensures that if you did not complete the task in allotted time, the HIT is available to other worker.
Likes
(

0

)
Dislikes
(

0

)