A CPM candidate for the rural panchayat polls was beaten up and kidnapped by alleged Trinamool Congress supporters near Durgapur on 13th July after he refused to withdraw nomination.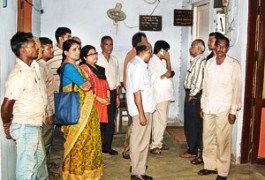 Though several kidnapping allegations has already been filed against Trinamool Congress workers at various places in the state, but this is the first such kind of charge in Durgapur-Asansol region.
Moni Sutradhar, who had filed his nomination for Jemua gram panchayat seat at the periphery of the city of Durgapur, was however released after four hours.
CPM leaders said Sutradhar, 52, was abducted around 10am from near a private factory in Bamunara Industrial park where he works as a contract worker.
Moni Sutradhar said, "The Trinamool workers came to the factory where I work and dragged me by the collar. They beat up me with sticks and told me not to campaign. When I refused, they blindfolded me and took me away in a motorcycle to their party office in that area." Sutradhar added by saying that Trinamool supporters even warned him that he will have to lose his job if he fails to join Trinamool rally from now onwards.
The CPM candidate said he was "kicked out" of the Trinamool office after four hours.
Jemua-Bidhan Nagar local committee secretary of CPM, Pankaj Roy Sarkar said, "Moni has been made the candidate of CPM at the gram panchayat of Tetikhola. From the day he went to file his nomination, he has continuously been threatened and now after he filed his nomination he was kidnapped to force him withdraw his nomination."
CPM has given a letter to the sub-divisional officer of Durgapur stating how their party candidates are being threatened and how one of their candidates, Moni Sutradhar has been abducted. Copies of the letter have also been sent to Kanksa police Station and New Township police Station.
Burdwan Trinamool president Apurba Mukherjee refuted the allegations.
Likes
(

0

)
Dislikes
(

0

)