An incident of Kidnapping and then a miraculous escape had been the talking point of the town of Durgapur for the entire day yesterday.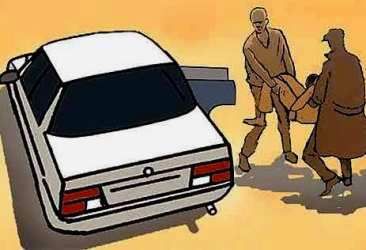 A gang of kidnappers' kidnapped a class X student on Friday (13 September) from the posh City Centre locality, which is the heart of Durgapur's administrative corridor. The victim, Vivek Thakur, was grabbed by a five-man gang on the Uday Shankar Bithi road in City Centre at around 8.45 pm on Friday night, when he was heading for his house on a bicycle.
Vivek, son of Mr Amlesh Thakur manager of a civil construction company, said his son had gone to the house of a relative and was kidnapped while on his way back. The Thakurs reside in the Anand Vihar locality in Steel Township barely 2 km from City Centre.
One eyewitness said: "The vehicle came to a screeching stop near the boy. One person got out of the vehicle and hit the boy. When the boy fell on the ground, another person picked him up and put him into the vehicle."
Immediately after the incident, a crowd of nearly 500 locals assembled on the road where the incident took place. The locals immediately alerted the adjoining police station about the incident and also about the vehicle. Senior police officials headed by ADCP (East), Mr Sunil Yadav rushed to the spot.
The vehicle then apparently headed towards NH-2, which police later came to know. The whole incident then took a dramatic turn. The vehicle while crossing the Ajoy river bridge connecting Pandaveswar in Burdwan with Bhimgarh in Birbhum went out of control and hit a pillar on the bridge and overturned
Police received news of the vehicle being spotted beside the Ajoy river bridge at around 9:50 p.m.
The CP, Asansol Durgapur Police Commissionerate, Mr Vinit Goel said the vehicle while being chased by police, went out of control and hit a pillar on the bridge's Bhimgarh part and then overturned. He said: "They fled, leaving the boy. We have learnt that some of them also were injured."
Police sources also revealed that the kidnappers' gang was recently released on interim bail in Kolkata.
One may recall that a few days ago there was a daring incident of robbery in Durgapur on October 2 at the City Centre locality only. Rising incidents of crime is putting a big question mark on the law and order situation in the industrial town of Durgapur.
Likes
(

4

)
Dislikes
(

0

)