Labor unrest at Durgapur Steel Plant (DSP) forces work to come to a halt virtually, at the blast furnace department of the plant. Trouble started after DSP authorities didn't renewed gate pass of four contractual workers working at the blast furnace department. Sources said that DSP management was virtually threatened by INTTUC leadership not to renew the gate passes of these four contract workers who were members of CITU. The news of this termination created furor among other contract workers working at the same job site. Showing solidarity for the four terminated co-workers, the rest of the hundred contract workers working there protested this inhumane act, yesterday and demanded immediate restoration of the four left out contract workers.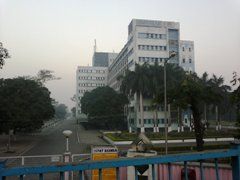 But this is not an isolated and first act of this kind. Ever since Trinamool Congress came to power in Bengal, thousands of contract workers of various units have lost their job simply because they were members of CITU, the labor union of CPI (M). The fate of the contract workers of Durgapur Steel Pant (DSP), a unit of Navaratna PSU Steel Authority of India Limited (SAIL) came under serious threat after Trinamool Congress (TMC) won both the assembly seats of Durgapur and the Durgapur Municipality Corporation (DMC) election as well. The trade union wing of Trinamool Congress, INTTUC demanded that 80 % of the contract workers must be from their members and initiated pressure tactics. As a first move, they demanded that the DSP management must stop gate pass renewal of all this contract workers which will automatically prohibit entry of the existing contract workers inside plant premises. Even Durgapur Mayor and as well as the new elected legislative assembly member of Durgapur Paschim (west), Mr. Apurba Mukherjee denied any such demand by his party and firmly stated that they are not in favor of any such ouster. But the ground reality was not the same. Mr. Prabhat Chatterjee, INTTUC Bardhaman District President has always favored the demand that Trinamool Congress men must be given the job of contract workers on priority basis.
In this latest development at the Blast Furnace department of DSP, the four contract workers who were terminated are cleaning staff of the Slag Granulation Plant (SGP) under Blast Furnace. Of the four there is one women worker as well. UCWU, the CITU affiliated contract workers union has demanded immediate renewal of the gate passes of these four contract workers. The DSP authority is in fear that work may get stalled at the Blast Furnace any time, which will jeopardize their plan of putting up a great show in the last quarter of the current financial year. It may be recalled that DSP has put up a great show in September, October and November, recording highest ever productions in all the three months.
Likes
(

0

)
Dislikes
(

0

)