Once again unlawful activity and high handedness of civic police saw protests by residents of Durgapur. On Thursday (August 1), DVC more of Durgapur witnessed protest and roadblock of NH2 by locals against the high handedness and illegitimate acts of Civic Police Volunteers of Durgapur.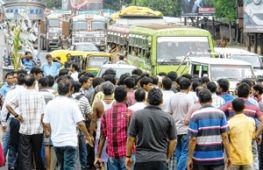 The locals alleged that the traffic police kiosk at DVC more of Durgapur on NH2 is occupied for most of the time by an insurance agent and the traffic surgeon who is supposed to be at the traffic kiosk takes shelter in a shed beside the national highway. The locals said that the insurance company agent identified later as Shyamal Lohar has been seen occupying the traffic police kiosk at DVC more crossing for quite some time, and barking orders to two CPVF personnel to indiscriminately stop vehicles.
"The vehicles that do not have valid insurance are taken to the kiosk where Lohar, the insurance agent forced them to renew their vehicle insurance on the spot. The person offers a cut to CPVF and traffic policemen against each insurance renewal," said Mr Parimal Agasty, ward committee secretary in City Centre. He added: "Each CPVF and traffic police personnel are given target of 22 cases everyday and we have definite information on this."
On Thursday (August 1), the locals saw Civic Police Volunteer Force (CPVF) men chasing a lorry and at 3.30 pm. On Wednesday (on July 31) one such lorry had crushed one Deepak Gurung, a local photo journalist to death at the same crossing. The angry locals cornered the CPVF men and the insurance agent was locked in the kiosk from outside. The OC, Traffic of the Asansol Durgapur Police Commissionerate, Mr. R S Yadav and OC's of Coke Oven and New Township PS rushed to the spot and arrested Lohar.
Meanwhile, the Chairman of the state owned South Bengal State Transport Corporation, Mr. Tamonash Ghosh got held up in his vehicle due to a road blockade on NH2 that hit traffic between Muchipara and Bhiringee More of Durgapur. Seemingly wonderstruck, Mr. Ghosh said: "I was shocked to see this. How were the private insurance agents allowed by the police to grab the traffic post? I informed the state transport minister and requested him to look into this." He further added: "I shall discuss about the menace and the illegal nexus with the Chief Minister after she returns from Mumbai."
This is however not for the first time that the activity of the CPVF personnel has not only caused embarrassment for the administrations but has also caused inconvenience to the public in recent times, as they have been caught trafficking illegal coal, assaulting members of the public and have even been accused of murdering pedestrians.
Likes
(

0

)
Dislikes
(

0

)