The 52 year old Durgapur Project Limited (DPL) has virtually turned into an "old age home" with most of the top management of the company are retired persons. The top ten officers, led by managing director Mriganka Majumdar, have retired from other jobs 10 to four years ago to settle down at Durgapur Project Limited.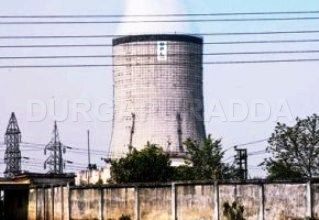 At Durgapur Projects Limited the power utility organisation that also manufactures key industrial products such as coke and coke oven gas, only those who are retired seem to qualify for the top jobs.
This has created a sense of demoralizing effect as other executives and engineers, young and senior alike, feel that they have no chance to move up the company ladder. They refer to their office as an "old age home".
A total of 450 executives and engineers and around 3,500 people work at DPL, which has incurred nearly a Rs 200-crore loss in the ongoing financial year.
Former power minister Mrinal Banerjee appointed Mr. Mriganka Majumdar in 2009 after he retired from West Bengal State Electricity Distribution Company Limited (WBSEDCL) the same year.
"The managing director, who was retired, was appointed in 2009. He chose his own team members from retired personnel from different public sector companies," says a senior officer on the verge of retirement.
It has led to a lot of frustration. "What will happen with us who have been working for the company for so long? Why doesn't the managing director choose from executives or engineers like us for the front row posts? Do I have to wait for my retirement?" the official added.
Majumdar's top ten officers — executive directors, general managers, deputy general managers, internal auditor, law and security officers and two officers on special duty — retired from companies such as the West Bengal Power Development Corporation Limited (WBPDCL), WBSEDCL, Steel Authority of India Limited (SAIL) and DPL. Another five officers, including an anaesthetist at the run hospital, have been continuing work after retirement.
DPL officials said one of the main reasons behind appointing so many retired persons is money. The plant is reeling under a financial crisis. "The company owes around Rs 2500 crore to different financial institutions for setting up new power generating units, buying electricity and coal from other sources during shortfall and to pay salaries. A few months ago the company issued a letter to all the executives saying their salaries would be delayed by a week because of funds crunch. This was the first time this happened in DPL," says a finance department executive.
Durgapur Projects Ltd (DPL), a five-decade-old multi-utility company under the administrative control of the Department of Power and Non-conventional Energy Sources, Government of West Bengal has been incurring heavy financial losses in the last few years.
Retired officers cost less. The monthly cost to a company for a regular general manager at DPL is around Rs 1.5 lakh including perks whereas a retired officer in the same post gets around Rs 1 lakh as salary including perks. A regular executive director gets around Rs 1.8 lakh per month but the retired officer in the same post gets around Rs 1 lakh. The DPL spends Rs 15 crore on salaries every month.
Some feel that the managing director is in favour of retired persons because he himself is a retired person. "If any younger officer is appointed as his close subordinate he might suffer from inferiority complex," alleges an engineer.
"In the power sector, including at DPL, we depute a managing director with an age limit of 65 years but this managing director chose the rest of his team members. The government had no role in it," says Moloy De, power secretary, also chairman of DPL.
But is old age necessarily a bad thing? Majumdar thinks not. "I do not believe that old and retired men cannot work properly. Sometimes they work much better than a young man because they have experience. I have engaged those in my team who are competent. What is wrong in it?" he asked.
Likes
(

1

)
Dislikes
(

1

)