Like every year, from the very first day of the new year began the oldest fair of Durgapur, Kalpataru Mela. Every year the fair is held at the Gammon Friends ground near the Gammon Bridge from the 1st day of January to 10th day of January. This is the oldest fair held at the Steel City of Durgapur and attracts large crowds from the city as well as from the nearby districts.
Book fair is the prime attraction of Kalpataru fair. From its very early years, book fair of Kalpataru Mela drew large crowds and book enthusiasts from places far and near. Reputed publishers from Kolkata are seen giving their stalls at the fair. Even in this year, the number of large visitors at the book fair justifies the saying that book reading forms an integral part of Bengalee culture.
The agriculture fair of the Mela is another attraction of the Kalpataru Mela. Large sized fruits, flowers and vegetables that are kept at the agriculture (Krishi Mela) unit of the Mela for public viewing large crowds.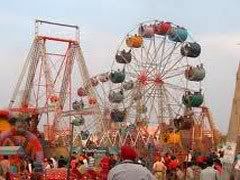 Though Durgapur has grown by leaps and bounds in recent years, yet this particular fair has not lost its old charm. The mad rush witnessed at the fair is something extra ordinary in this age of shopping malls and large company showrooms. The large Gammon ground seems small at times when the crowds swells up and there seems to be no space, even for walking. Perhaps fair will never loose its charm and importance from our life.
Likes
(

1

)
Dislikes
(

0

)