In a major clash inside Durgapur Steel Plant (DSP), contract workers who were supporters of INTUC has been badly beaten up by the INTTUC supporters. A group of armed INTTUC supporters attacked the INTUC office near the ED (Works) building inside DSP and beat up all those present in the office during that time. Six of the contract workers suffered severe injury and were hospitalized.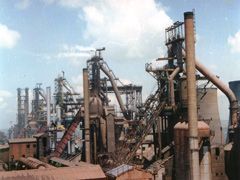 Though this is not the first time that this kind of clashes took place inside the premises of DSP between supporters of Congress backed trade union, INTUC and Trinamool Congress backed trade union, INTTUC, but what happened today was of the highest magnitude. INTUC leadership alleges that INTTUC brought goons from outside and the attack was pre-planned. Sources said that the clashes were a fall out of recruiting new contract workers. Both INTUC and INTTUC are fighting among themselves over recruitment of new contract workers for the past one year. Here one must not forget that many contract workers have been forced out of their job after TMC came into power last year. INTTUC and INTUC were mainly instrumental in forcing out these old contract workers, who were mostly the supporters of left backed trade union, CITU.
Not only workers and contract workers, but even higher management of DSP, including GM (Town Service) was assaulted by INTTUC supporters, a few weeks back. This has created a sense of fear among both the permanent workers and contract workers of DSP. The management is also having no clue to tackle this kind of unprecedented situation and this in turn is hampering the working atmosphere of the plant. Various new projects inside Durgapur Steel Plant, which are part of the modernization is getting delayed due to this. There is a sense of concern among the work force of DSP that if the situation continues like this, future of the plant will be in deep trouble.
Likes
(

0

)
Dislikes
(

0

)