At an election rally in Andal near Durgapur, for the upcoming panchayat polls, Mamata Banerjee, the CM of Bengal cautioned her party-men against factionalism in both Trinamool Congress and its labour wing, INTTUC.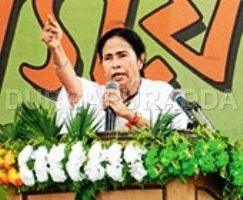 The word of warning by Trinamool chief is more significant after Durgapur Steel Plant (DSP) management has written to Subrata Mukherjee, the national president of Trinamool's labour arm INTTUC seeking help and intervention to rein in on the two rival factions of INTTUC, both claiming to be the official labour arm of Trinamool Congress. The letter to Mukherjee also mentioned about the fact that factional feud between two Trinamool unions has even cast a cloud on DSP's Rs 3,500-crore modernisation project.
Mamata Banerjee yesterday said that she is well aware of the fact that crores of rupees were being made in the name of trade union in Durgapur's DSP and Burnpur's IISCO.
At a rally in Andal, the chief minister said: "Aamar kachhey khobor achhey Durgapur er IISCO te koti koti takar karbar hochhey union er naam korey. Ami parishkar boltey chai je Trinamul rajniti kortey gele takar lobh chharte hobey. Takar lobh korben na. Ami muri kheye talir chaler barite shanti te achhi (I have information that at IISCO in Durgapur, crores of rupees are being made in the name of union. But I want to make it clear that if you have to be part of Trinamul, you can't be greedy for money. Don't hanker for money. I am in peace eating puffed rice and living in a tiled house)."
However, there may be difference of opinion, whether the CM meant to say IISCO and Durgapur or IISCO in Durgapur, but one thing is for certain that she tried to give strong signal that factional feud will not be tolerated. Knowingly or unknowingly she also acknowledged the allegation made by DSP authority in its letter to Subrata Mukherjee.
In April, veteran Trinamul trade union leader Sobhandeb Chattopadhyay had made allegations similar to what the chief minister said today at the Andal rally. Chattopadhyay had skipped the INTTUC state conference in Durgapur, accusing a faction of extortion to raise funds for the event.
During a visit to Durgapur last month, Chattopadhyay, the leader of one of the factions of INTTUC unions in DSP, had alleged at a rally outside the plant's gate: "Money is coming in white envelopes through backdoors from contractors in the name of the INTTUC." Mamata Banerjee also echoed the same voice.
Mamata yesterday warned against factionalism, saying: "I am telling my local ministers, MLAs and mayors present here that there will not be any factions in the party or the union. Factionalism must stop. They will have to form a unit and work together."
Now it's to be seen whether the fighting factions can come under one formation and give due respect to the warnings and appeals of the CM, or whether the situation remains same at ground level.
Likes
(

0

)
Dislikes
(

0

)