A massive hailstorm hit Durgapur town on Saturday (4th May) evening. Though the hailstorm brought respite from the unbearable heat, it caused huge damage to houses and injured many as well.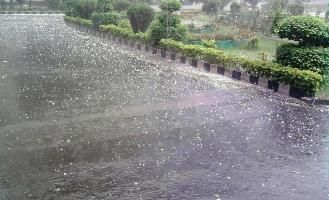 Almost the entire region of Durgapur and parts of Raniganj, Panagarh, Galsi, Barjora, Gangajalghanti, Saltora also witnessed the hailstorm. The hailstorm continued for near about twenty minutes and started at about 5:10 pm in the afternoon. After the hailstones ceases to fall, rain accompanied by storm continued for another fifteen minutes.
The hailstones weighed between 150 to 250 grams. The hailstones damaged asbestos roofs of many houses in domestic and PSU quarters and also destroyed windscreens of nearly a thousand cars parked in open spaces. Police said that at least two dozen people are feared to have been injured.
Old people of the town reports, that they haven't witnessed hailstones of this sizes being thrown from the sky in last 20 years. However, 78 year-old Mr. N K Mukherjee of City Centre, director of a private run CBSE School said, ""In 1954, Durgapur had witnessed hailstorms similar to this."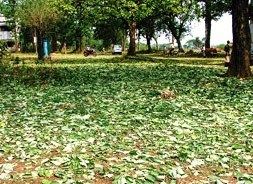 Many of the G, F, FN type quarters of Durgapur Project Limited (DPL) which have asbestos hoods were destroyed. A minibus on the Benachity-Durgapur Railway Station route meanwhile lost control and hit a car in City Centre as one large hailstone broke the front glass of the crew cabin. Three were injured and had to be rushed to a nursing home. Portions of the asbestos roof of the Sidhu Kanhu Indoor Stadium have been badly damaged.
Power supply to the city provided by the Durgapur Projects Limited was snapped due to the hailstorm causing additional inconvenience. Hundreds of acres of cultivation, horticulture fields were also destroyed due to the hailstorm.
Mrs Ayesharani Ahmed, Sub Divisional Magistrate, Durgapur said: "We have been receiving a number of complaints of partial damage of dwelling houses and commercial houses. We have engaged our officials to assess the extent of damage due to the catastrophe."
Durgapur Mayor, Apurba Mukherjee, have instructed his councilors to prepare a list of residents whose house have been damaged by the hailstorm. He assured that DMC will do its best to stand beside those affected in the natural calamity.
Likes
(

0

)
Dislikes
(

0

)