Managing Director (MD) of Durgapur Project Limited (DPL), the power generating company under the direct control of the Bengal government has in a recent communication to the Bengal power minister complained of being man-handled by a section of INTTUC supporters. The MD of DPL has also sought the intervention of the minister.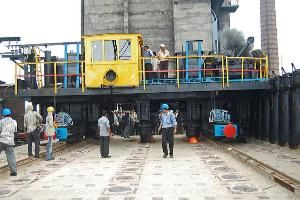 On 29 October this year, the MD of DPL, Mr Mriganka Majumdar was allegedly attacked by a section of unruly INTTUC members when he refused to ensure immediate absorption of 150 temporary security staffs on the roll.
The agitators charged into his office room and asked Mr Majumdar to issue an order on the subject instantly, for which the MD of DPL pleaded helplessness.
The Chief Security Advisor, DPL, Mr N K Biswas has sent an internal report describing the incident to the power secretary and the power minister. His report said: "When the MD tried to come out of his chamber, some of the agitators emerged vehement and pushed him. The security officials with the power unit also failed to come into the MD's rescue." The report further said: "They wanted immediate decision on such an issue which deserves detailed inquiry and investigation."
Mr Majumdar could be freed only after the state Agriculture Minister, Mr Moloy Ghatak intervened. Mr Majumdar however didn't register any police complaint on the issue. Mr Majumdar said: "Our security advisor's report to the departmental higher-ups has described everything and we expect a positive measure from the state authority."
The Chief Minister might be asking the trade unions to restrain and give up militancy in the factories, but it is her party's labour front that has assaulted the highest administrator of a state run power utility here, which has duly been brought into the notice of the power minister and secretary, power department seeking their immediate intervention.
The General Secretary (GS) of the INTTUC in DPL, Mr Debdas Majumdar is scheduled to get superannuated on 31 January 2014.
As per the labour front's bye laws, a retired employee won't be able to hold the post as a GS of the union. Mr Debdas Majumdar's son, Mainak is a contractual security staff with the DPL and he too is not eligible to occupy his father's chair.
Mr Dibyendu Banerjee, secretary, INTUC in DPL said: "The Chief Minister's own party men are violating her commitments. It is shameful."
The INTTUC's district president, Mr Probhat Chatterjee said: "We have warned the agitators that hooliganism in the name of trade union won't be allowed."
But in spite of all the talking of creating an investor friendly atmosphere, Trinamool Congress leadership has hardly been able to have a control on the unruly supporters of not only its labour font but also its party members.
Likes
(

0

)
Dislikes
(

0

)