Minister of Commerce & Industries, West Bengal, Mr. Partha Chetterjee's comment at an event organised by Essar Oil Ltd in Durgapur yesterday, seems to have surprised many including industrialists and top bosses of industry houses.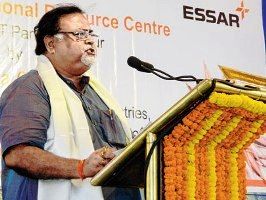 Investors should "win hearts" before setting up projects in an area and hire workers from among the locals, industries minister Partha Chatterjee said yesterday, while inaugurating an exploration and production office of Essar Oil in Durgapur.
The minister's comments, a day after Essar Oil ran into trouble with villagers, who led by a Trinamool leader, demanded the reinstatement of a sacked guard, has put into question the government's outlook on creating a industry friendly atmosphere.
"Je jaigai byabsa korben, shekhankar manusher mon joy korbenna eta ki hoy? Sthaniyo manushder kaje agradikar dite hobe…. Amra biniyoger sathe niyog o chai (you want to do a business and don't want to win the hearts of local people, can that happen? Priority should be given to recruit from among local people…. We want investment as well as employment)," he said after inaugurating the exploration and production office of Essar in Durgapur.
Asked about the minister's comments, Kallol Datta, the president of the Bengal Chamber of Commerce and Industry, said investors look for safety of their investment wherever they go. "It was missing during the Left era and sadly, it is still missing," he said.
Senior Essar officials said it was not possible to fulfill each and every demand of the villagers. "Such protests have become a practice. Sometimes they are politically motivated. If we start fulfilling every demand, they will protest every day citing different reasons," said a senior official who did not want to be named.
The Mumbai-based company, which has invested Rs 1,500 crore to extract coal-bed methane around Durgapur, has seen at least five instances of disruption of work by villagers led by Trinamool leaders, since January this year.
Day before yesterday, over 60 villagers in Kanksa led by Trinamool block president Kebu Chatterjee stalled work at an under-construction water treatment plant of Essar Oil. Yesterday, Kebu Chatterjee said he would not let work resume till the guard is taken back.
Asked about the string of protests at Essar, Partha Chatterjee said there was "no problem" at the company. A "small thing is being blown out of proportion", he remarked.
"There may be minor incidents and misunderstanding between company officials and locals. But that will be solved through discussion. The government will help the company if needed. I would request the Essar officials here to give importance to recruiting work force from among the locals. The villagers will be happy if they get such a response," said the industry minister.
Essar Oil Ltd, one amongst leaders in Indian non-conventional energy sector yesterday announced the inauguration of its Exploration & Production (E&P) office at Durgapur for its Coal Based Methane (CBM) operations at WEBEL IT Park near Gandhi More of Durgapur.
Likes
(

0

)
Dislikes
(

0

)