The two-day all India general strike called by 11 central trade unions protesting the "anti-labor" economic reforms of Congress government had a mixed response in the industrial town of Durgapur. Strong warning messages by the state government saw normal attendances in government offices. Though some shops were opened and both government and private buses hit the road, but number of people on the road was very less. Most preferred to stay indoors due to fear.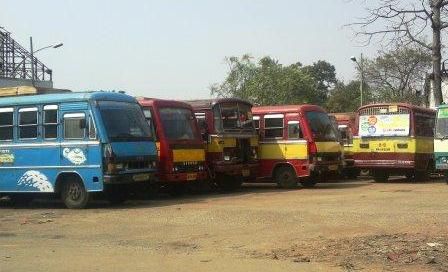 In spite of West Bengal Chief Minister Mamata Banerjee's warning of strict action against traders who would not keep their shops open during the two-day strike, most of the markets in Durgapur saw only very few shops being opened. Most of the shops in Benachity market were closed in morning and the condition worsens in the evening as most of the shops closed their shutters. The picture was same in Chandidas, Muchipara, Mamra and Durgapur station bazaar as well. Mini buses, the main mode of public transport in Durgapur mostly stayed away from the road. Only very few mini buses were seen in the road. This in spite of Mini Bus association being controlled by the labor wing of Trinamool. Both public sector and private sector banks remained closed. However, Durgapur Steel People's Co-operative bank remained open.
In Durgapur Steel Plant attendance was below 70 percent. Production was normal. In Alloy Steel Plant, attendance was less than 60 percent. In Durgapur Project Limited attendance was below normal, however production was normal. In other industries in and around Durgapur attendance was more or less normal. However the kind of support which this particular strike garnered in the absence of any picketing and threats by the state government is unprecedented.
Almost all the English medium schools of Durgapur remained closed. St. Xaviers and MAMC Carmel declared holiday much earlier considering the safety of the students. Steel Carmel however decided on the very last moment. in fact in the morning hours of today to remain closed and hanged up a notice on the school gate. Hem Sheela Model school was open in the morning but seeing very low turnout of students decided to keep the school close without a single class. DAV Model School took the decision of keeping the school close beforehand but the teachers were asked to come to school. St. Peters was also remained closed. But Guru Teg Bahadur Public School (GTBPS) near Benachity of Durgapur remained open. In spite of very very poor attendance of students, classes were held normally in GTBPS.
Apart from one or two sporadic incidence of violence, the overall situation of the industrial own remained peaceful. Tomorrow being "Bhasha sahid Dibas", extremely important affairs for the Bengaleese all over the world, it will be an industrial strike in Bengal tomorrow.
Likes
(

1

)
Dislikes
(

1

)