Mysterious death of an iron and steel factory driver in Dhanbad police custody and a hurried post mortem of the body raised questions and sparked fury among his family members in Durgapur yesterday.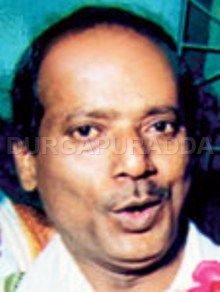 Badal Chandra Dey, 50, hailing from Ashok Avenue of Durgapur Steel Township was called in for questioning by Dhanbad police in Jharkhand last Friday in connection with a highway robbery case. The Dhanbad police claimed that Badal committed suicide inside the toilet of the Police Station at 7:05 am on Sunday morning by using his shirt as a noose.
Badal was engaged as a contractual driver two years ago by a secondary steel unit operating in Durgapur industrial zone. On July 3rd (Wednesday), the car he was driving back to Durgapur from Jhumri Tilaiya in Jharkhand was intercepted by a gang of highway robbers on NH 2 between Mokama and Dhanbad. An accountant of the company Mr Asim Borat was in the car and was carrying cash worth Rs 26.50 lakh. The gangsters looted the cash at gunpoint and fled. The vice president of the company's Jamuria plant, Mr Sanjay Agarwal then lodged a complaint with Dhanbad police.
During investigation, the police suspected that it was an insider job and the driver had possibly tipped off the gang. SP, Dhanbad, Mr Anoop T Mathew said: "We tracked his cell phone and it was revealed that he had several interactions with the gangsters and he also had altered his SIM card after the crime."
He added: "The gangsters were from Durgapur – Asansol area and our investigations established that the driver was known to them."
On Thursday the driver Dey was questioned and released. However on Friday Dey was again called up for further talk. Dhanbad police arrested him on Friday.
The family of the deceased driver alleged: "He left home last Friday when he received a call from the Dhanbad police but didn't return. Yesterday called twice from an unknown number and insisted that he was fine. But today we were told that he was dead."
Dhanbad police super, Mr Anoop T Mathew has said that a magistrate level inquiry over the death of Dey has been ordered and Human Rights commission has also been informed.
Family members of Badal Chandra Dey have raised questions over the suicide theory of the Dhanbad police.
Likes
(

0

)
Dislikes
(

0

)