Controversy over the death of a Durgapur borne driver in Dhanbad police's custody on Sunday took a new turn after the initial post mortem report suggested that the cause of death was hanging and there were no external injuries. However, Dhanbad police handing over the dead body to deceased's family members without any death certificate and conducting of post mortem by Dhanbad police without the consent of family members have further deepened the mystery cloud.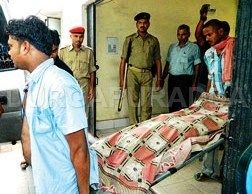 The deceased's family members and fellow factory workers continued to seek answers on what prompted such a hurried inquest. Question mark has also been raised as to why the Jharkhand authority did not issue any death certificate of the driver who died on Sunday.
The family was handed Badal Chandra Dey's body without a death certificate by the Dhanbad police near Maithon. The local civic body run burning ghat initially refused to allow the cremation as there were no valid papers. The family members in presence of local policemen here further conducted a fresh videography of the body before cremation.
The driver Badal Chandra Dey's post mortem report was received by the Dhanbad police yesterday and SP, Dhanbad, Mr. Anoop T Mathew said: "The report cleared all confusion and confirmed death by hanging. Also it stated that no internal or external injuries were found."
Mr. Mathew, SP of Dhanbad police appeared to be relaxed with the report prepared by a medical board comprising five experts from local Patliputra Medical College, Dhanbad. He said: "We took no chances and engaged medical experts and conducted videography of the entire inquest process."
Tapas Dey, the deceased's son alleged: "The police didn't seek our consent before post-mortem and then handed-over the body without death certificate. Why the police was so hurried?" The grieving son added: "My father's body bore several injury marks on the back, hand and leg and we have preserved video record to help judicial probe."
Mr. Sanjay Agarwal, Vice President of the factory where Badal Chandra Dey was employed as a driver also alleged: "They had taken out the body from Dhanbad PS before our arrival and didn't seek our consent for post-mortem."
Badal Chandra Dey, 50, hailing from Ashok Avenue of Durgapur Steel Township was called for questioning by Dhanbad police in Jharkhand last Friday in connection with a highway robbery case.
Badal was employed as a driver two years ago in a secondary steel manufacturing unit of Durgapur. On July 3rd (Wednesday), the car he was driving back to Durgapur from Jhumri Tilaiya in Jharkhand was intercepted by a gang of highway robbers on NH 2 between Mokama and Dhanbad. An accountant of the company Mr. Asim Borat was in the car and was carrying cash worth Rs 26.50 lakhs. The gangsters looted the cash at gunpoint and fled.
The police claimed that on examining the cell phone records of Badal they suspected him of being hand-in-glove with the gangsters and summoned him for interrogation. Police further claimed that during interrogation, Badal broke down and being unable to bear the trauma committed suicide out of frustration inside the toilet of the Police Station on Sunday morning by using his shirt as a noose.
Likes
(

0

)
Dislikes
(

0

)