Yesterday only it was reported in Durgapur news website, www.durgapuradda.com that DNA test of the ten bodies recovered from the ill-fated INS Sinhurakshak that exploded and sank at the naval dockyard in Mumbai on August 14 has confirmed that one of the bodies is of Malay Haldar, the Indian Navy sailor from Durgapur.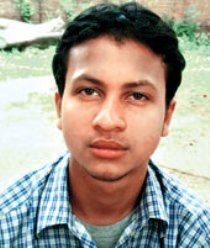 However, Malay's family was officially informed about the news by navy officials' yesterday evening. Information came in from the Naval Headquarters that Malay's body would land at the Kolkata airport on Saturday morning.
"Malay Haldar's mortal remains will be arriving at the Kolkata airport around 8.50am on Saturday. The Navy will carry the body to Durgapur and hand it over to the family. Haldar's last rites will be held with full military honours at Durgapur on Saturday. I will be attending the funeral," said Commodore Ravi Ahluwalia, naval officer-in-charge, West Bengal.
Meanwhile, gloom descended on the neighbourhood of Sadhudanga where Malay had grown up. Over the last couple of years, he had turned into an example for his friends and neighbours. A soft-spoken, brave, adventure loving youth, Malay had opted for the Navy's submarine wing, barely months after joining the Indian Navy. Among 600 candidates, he was among the 164 who qualified. He was ranked 24th in the batch and was assigned the post of Electrical Mechanic Radio II. The INS Sindhurakshak was the vessel where he was to receive his hands-on training.
Mrinal and Sujata, parents of Malay, were heartbroken when the confirmation came in. Though the family members lost all hopes of seeing Malay alive when they realised the magnitude of the explosion, but still the parents broke down. However their last and only prayer was at least to receive Malay's body. The prayer seems to have been heard this time.
Likes
(

0

)
Dislikes
(

0

)