A new battalion under West Bengal Police will most likely be given the responsibility for providing security to the Kazi Nazrul Islam Airport in Durgapur. According to sources, the West Bengal Cabinet approved the proposal for setting up the new battalion at its last meeting held at Writers' Buildings on 27 September.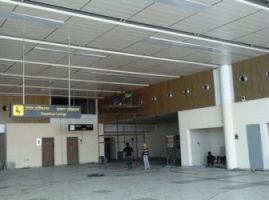 Project developer of the Greenfield private airport at Andal near Durgapur, Bengal Aerotropolis Projects Limited (BAPL) will bear the expenses incurred for raising, training and paying salaries to the battalion.
BAPL had first approached the Bureau of Civil Aviation Security (BCAS) – the Central government agency that oversees security-related matters for all commercial airports in India, for providing security at the new airport at Andal.
"Usually, the security cover at airports is provided by the Central Industrial Security Force (CISF) that functions under the overall supervision of the BCAS. But in case of the Greenfield airport in Durgapur, the BCAS has asked us to raise a special police battalion; they will impart the necessary training on civil aviation security," said a senior official in the West Bengal home department.
"The new battalion will carry out all the tasks that are performed by the CISF at any other airport. They will give security cover to the entire airport including the passenger terminal building, the Air Traffic Control tower, the runway etc and carry out security checks on passengers, freight and aircrafts," the officer added.
The state government is creating 86 new posts of police personnel who will be part of the new special battalion and the troop is likely to be headed by an officer in the rank of a deputy inspector general or an inspector general of police.
Likes
(

0

)
Dislikes
(

0

)