National Institute of Technology (NIT), the pride of Durgapur hogged news headline as a section of the faculty members along with staff and students sat on a dharna within the NIT campus yesterday, protesting the high-handedness of the registrar of Durgapur NIT. Meanwhile, the registrar has also lodged an FIR with the police against three teachers and the librarian, accusing them of disrupting peace in the college.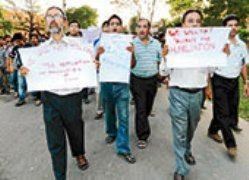 Trouble in this premier institute of technology started as the librarian of the NIT, Manik Mandal, accused the registrar of asking him to take premature retirement or continue with a demotion.
According to rules of the Union human resource development ministry, which runs the institute, the retirement age for librarians and assistant librarians of all Centre-run technical institutes is 62 years. The institute was in 2003 upgraded from a state-run Regional Engineering College, to the present status of an NIT. The retirement age in state-run engineering colleges has been 60.
Librarian Manik Mandal, who turned 60 in January this year, has lodged complaints with the director and the board of governors against the registrar, Colonel (retired) P.S. Sandhu.
"The registrar called me to his chamber on January 28, three days before I turned 60. He told me that I would have to retire by January 31 or continue as assistant librarian. I quoted the ministry rules and argued that I am supposed to work in the institute for two more years as librarian. But he asked me to walk out of the college right away. I was not even issued any retirement notice. I felt humiliated," Mr. Mandal said. The librarian alleged that Sandhu had been since then repeatedly calling him to his chamber and asking him to retire.
Asked about the allegation, Sandhu said Mandal was promoted to the librarian's post before the college was accorded the status of a central institute and so would have to retire at 60 according to rules in state-run institutes. "Mandal cannot continue in his post as librarian. He is over 60 and should retire according to the rules that were followed in the Regional College of Engineering. He was made the librarian during that time. He is instigating a section of teachers against me and trying to create disturbance in the college," Mr. Sandhu said.
A delegation of the faculty that met the registrar on January 31 in support of Mandal's claims, yesterday accused Sandhu of misbehaving with them. "We had to walk out of the meeting as the registrar misbehaved with us," a teacher of the institute said.
A teacher of the civil engineering department said, "We want to save the institute from the high-handedness of the registrar. We will not tolerate such humiliation meted out to Mandal,"
The NIT's director, Tarakeswar Kumar, who officials said was in Delhi for a meeting with the HRD ministry, could not be reached for comment.
Likes
(

0

)
Dislikes
(

0

)