A huge nor'wester struck the industrial belt of Durgapur-Asansol yesterday afternoon. Most parts of South Bengal including Kolkata also received heavy downpour on yesterday evening.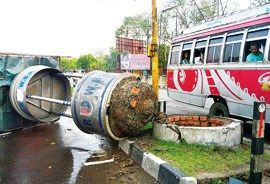 After the prelude on Saturday, the rain came pouring down on Sunday afternoon, bringing a respite to the residents of both the cities of Durgapur and Asansol and adjoining areas that has been reeling under heat and humidity for more than a week now. The thundershower lashed the city for about an hour, dragging mercury below the normal mark.
Though it was welcome respite from the hot humid summer days but it disrupted life severely in both the towns of Durgapur and Asansol. Many trees across the city got uprooted, electricity poles bowed down, electric wires got snapped at places, scores of thatched houses got damaged and even some people got injured as well.
Most parts of Durgapur including City Centre, Bidhan Nagar and Durgapur Steel Township remained powerless till late at night. However power supply got restored in Steel Township at around 10.00 pm, while parts of City Centre got electricity after 11.00 pm. Major portions of Bidha Nagar remained under "no electricity" till late at night.
Almost all the major roads of City Centre saw uprooted trees blocking traffic. In the absence of municipality officials locals took the task of removing the uprooted trees and helping in restoring traffic movement.
Met official has confirmed that the rain and thunder storm which Bengal received yesterday had nothing to do with the cyclone Mahasen which is gathering strength over Bay of Bengal and under all likelihood will give West Bengal a miss.
Officials at the Regional Meteorological Centre Kolkata has predicted heavy shower on Monday as well.
Likes
(

0

)
Dislikes
(

0

)