Manoj Kumar Nagel, a director with two Saradha Group companies, has been arrested yesterday from the detective department's office at the Bidhannagar commissionerate where he was summoned for interrogation.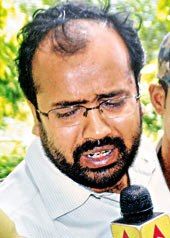 Manoj Kumar Nagel, one of the four directors of Saradha Realty and one of the three directors of Saradha Printing and Publications is from Secondary Road of Durgapur. However ancestral home Nagel is said to be Uttar Pradesh.
"We found his complicity in the company's irregularities," said Arnab Ghosh, deputy commissioner of police, Bidhannagar. Incidentally Nagel is the first employee of the Saradha Group to be arrested since the controversy came to light.
Nagel breaks down on his way to court on Sunday. He has been remanded in five days' police custody. "I am innocent. I was just an employee. I was framed by Sudipto Sen and Debjani Mukherjee," said Nagel. Sen was the chairman and managing director of the company while Mukherjee was one of the executive directors. Nagel has however said he will assist police in every possible way to arrest Sudipto Sen.
Arnab Ghosh, deputy commissioner of police, Bidhannagar said that Manoj Kumar Nagel was initially summoned based on a complaint lodged on April 16 by theatre director Arpita Ghosh against Sudipto Sen, chairman and MD of the Saradha Group.
Arpita, former employee of the group's channel "Ekhon Samay", which did not go on air, alleged that the employees had not received their salaries for the past three months. "On April 14, Mr. Sen sent an email informing us that the channel was shutting down," said Ghosh, known to be close to Mamata Banerjee.
Employees of the channels Tara News and Tara Muzik and the newspaper Sakalbela too received similar mails and lodged complaints, Arnab Ghosh said. The group has been accused of diverting cash deducted from employees' salaries for PF deposits.
Nagel was the chief agent of Saradha in Durgapur. He used to collect Rs 2 crore per month from Durgapur. He was in charge of the City Center office in Durgapur.
Likes
(

0

)
Dislikes
(

0

)