Polling in both the assembly seats of Durgapur was by and large peaceful. No big news of violence and untoward incidents has been reported. The industrial town of Durgapur went into poll today in the 5th phase of assembly election in Bengal today. Voter's turnout was more than 82%.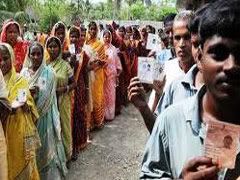 Unprecedented security arrangement was made to avert any unlawful activities. In fact the entire town of Durgapur was wrapped under tight security cover. Apart from some stray incidences like Electronic Voting Machine (EVM) going out-of-order, slow voting and influencing the voters no major incidents has been reported. During the end part of the polling, stormy weather condition created some problem. But nothing untoward happened
From early morning hours, long queues were seen in almost every polling booth. In spite of soaring temperature and high humidity, large voter turnout surely indicates the political consciousness of the people of Durgapur and their faith in democracy.
Fate of the contesting candidates has been sealed and kept in strong-room at Hem Sheel Model School. Counting for both the assembly seats of Durgapur will be held at Hem Sheela Model School of Durgapur on 13th May. The school has been converted into a strong-room where EVM machines have been kept and arrangements have been made for smooth counting process on 13th May.
Likes
(

1

)
Dislikes
(

0

)