The fake examinee of the Joint Entrance Examination (Main) who was arrested on Sunday, from Hem Sheela Model School of Durgapur, for charges of impersonating an original examinee was produced in Durgapur court yesterday. He has been remanded in police custody till April 14.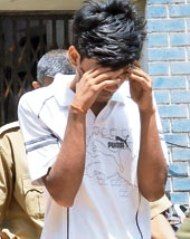 The fake examinee Manindra Kumar, a first year Food & Agricultural Engineering student with the IIT, Kharagpur was caught red-handed from the examination hall on 7th April. Authorities at IIT Kharagpur today confirmed that the arrested youth Manindra Kumar was a student of the institute. "There is a student called Manindra Kumar in the agricultural and food engineering department. Police will take action according to the law. Our disciplinary committee will hold a meeting and decide on whether to expel him. But the police are yet to inform us about the arrest of the youth," registrar T.K. Ghosal said.
Manindra Kumar had been charged under Sections 419, 420, 210 & 120-B of the IPC for cheating, impersonation and criminal conspiracy.
Police, after interrogating the accused, came to know that a bunch of fake candidates were being assigned by 'Eklabya' – a Patna-based coaching centre against payment of Rs 2 lakh per candidate. However Manindra got Rs 80,000 for appearing on behalf of Avishek Kumar, a Patna resident.
The owner of the Patna institute, Rajiv Ranjan, and Avishek are absconding.
Yesterday, police also arrested the manager of the lodge in Benachity market area under the Serai's Act, on charges of harbouring miscreants from Patna who had been operating as a gang to supply such 'proxy' candidates appearing in the examination halls on behalf of others.
Mr. Sunil Yadav, ADCP (East) said: "It's an organised gang and the root is based in Patna and we are seeking Bihar police's assistance to nab the kingpins."
Last year, three fake examinees were arrested from two examination centres and they also hailed from Bihar incidentally.
Likes
(

0

)
Dislikes
(

0

)