Within a day of the murder of former CPM MLA, Mr. Dilip Sarkar in Burnpur of Asansol and in spite of arresting any one, police on the basis of number of tell-tale clues have opined that the murder was the fallout of a "personal grudge" and apolitical. Investigating officers of the police have also ruled out Sarkar's alleged links with coal and scrap-iron smugglers as reasons.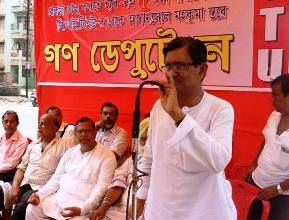 Dilip Sarkar, a CPI-M district committee leader, a CITU state leader and former MLA of Baraboni was shot in the chest and back at point blank range when he stepped out for a morning walk at Burnpur Upper Road near his house in Burnpur on Sunday by bike-borne assailants. The former CPM legislator was declared brought dead at IISCO Hospital, 500m from the murder spot.
Ajay Nand, the Asansol-Durgapur police commissioner told journalists, "We have got certain clues that suggest that the murder was the fallout of a personal grudge. We did not find in our primary investigation any link with politics or intra-party feud or even the role of coal smugglers. We also did not find any link of the Maoists with the murder."
The CPM had alleged that the murder was committed by "Trinamool-backed goons" as Sarkar was in charge of campaigning for the panchayat polls in Burdwan. "Trinamool-backed goons are behind the murder of our former MLA from Barabani near Asansol. This was pre-planned," Bose told journalists at Alimuddin Street.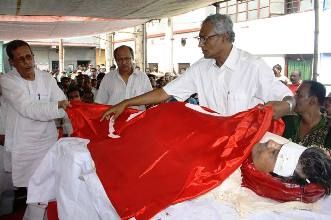 Meanwhile, State Agriculture minister and Asansol MLA, Mr. Moloy Ghatak and Trinamool Congress All India General Secretary Mr. Mukul Roy claimed that Sarkar's murder was a result of CPI-M's infighting and his involvement in women trafficking. Mukul Roy had on Sunday said there was a police complaint of trafficking against Sarkar four years ago.
Refuting the charges of Mr. Mukul Roy, Asansol-Durgapur Police Commissioner, Ajay Kumar Nand said, "We have no information that a case of woman trafficking had been lodged against Sarkar with any police station in my jurisdiction."
Nand also played down the CPI-M's charges that the Trinamool Congress had a hand in Sarkar's murder ahead of the Panchayat Election. Mr. Nand said: "His political activities had diminished significantly in recent years and the prospect of any political motive seems bleak."
"The police have no information about Mukul Roy's claim that a case of women trafficking had been lodged against Sarkar. It is surprising how Roy could give such a statement to the media. We have spoken to the slain leader's wife and she has decided to file a defamation suit against Roy. Our party's Burdwan district committee has decided to support and co-operate with her," said Bansagopal Chowdhury, the CPM MP of Asansol.
The CPI-M today observed a 12-hour strike in Asansol sub-division protesting Sarkar's murder. The response was spontaneous. Shops, public transport however were absolutely paralysed in Asansol, Burnpur, Raniganj, Jamuria and Chittaranjan towns. However, there was an incident of a government bus being ransacked and the driver and conductor being beaten up by suspected CITU supporters. Groups of Trinamool supporters also brought out rallies to decry the bandh.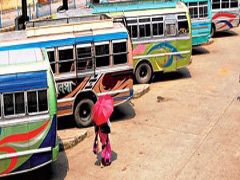 Meanwhile, ADG (Law and Order) Mr. Banibrata Basu also ruled out any political connection in the murder of Mr. Sarkar while speaking at Writers' Buildings yesterday. He said police got the cell numbers of five women in the deceased call list and will speak to them to find out any clue.
"So far, we know he had connections with some women and police are analysing the call details. As per preliminary investigation, we haven't found any political angle in the murder case," he said. He said the CID officers led by CI Hirapur are helping local police in the investigation. He, however, said the DG had asked for a high level inquiry into the case.
However, in the midst of investigation and in the absence of any conclusive evidence as of yet, how the police is conclusively abandoning certain factors as the reason of the murder has raised questions about the fate of the investigation. One must not forget that the Asansol-Durgapur police has not been able to crack the murder of another CPI-M leader, Arpan Mukherjee, son of former Asansol MLA and Mayor Bamapada Mukherjee on May last year.
Likes
(

0

)
Dislikes
(

0

)