Yesterday, Asansol-Durgapur police raided several offices of Axes Multi Developers Ltd in Durgapur. Police seized documents from the offices and arrested eight workers and officials of the Axes group. However the three directors of the company, Katyayan Bhattacharyya, Satyabrata Basu and Saraswati Basu managed to flee.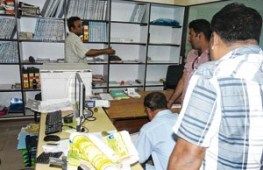 Earlier in the week, the additional chief judicial magistrate of Durgapur court has ordered police to treat the complaint of cheating lodged by a retired ECL employee in Durgapur court as an FIR and start investigations immediately.
Axes Multi Developers Ltd., a real estate company of Durgapur with forays into media, resort and hotel business is under investigation for alleged complain of cheating. Apart from dealing in land, Axes runs a local news channel by the name of Info, has hotels, resorts and several deposit mobilizing schemes. It has offices in Odisha, Assam, Bihar and Jharkhand also. The media division is reported to be quite close with Trinamool Congress leadership.
Police on Monday night raided the resident of one of its director, Katyayan Bhattacharyya, but Bhattacharyya managed to flee. On Tuesday, Durgapur police raided several offices of Axes Group in the city, including the one at City Centre. Important documents about the company's activity were seized from these offices. Latar, the police team also raided the media division office of Axes Group at Akbar Road in Steel Township. The media division runs the local news channel, info.
The police has sealed the offices of Axes Group in the city and said that they are also trying to send information to other state police where the company has its offices, so that they may also be sealed. The police has also sealed 49 bank accounts of the company
The police said that apart from dealing in land the company was also engaged in money mobilizing scheme without having any license of doing such business.
The Axes group, however, did not featured on the list of 52 fund-mobilizing companies' mayor Apurba Mukherjee had sent recently to the district magistrate demanding immediate steps.
Ironically, Durgapur Mayor, Apurba Mukherjee has often been seen sharing the dais with directors of Axes. Axes director Katyayan Bhattacharyya was seen felicitating Mukherjee when he was elected the mayor.
Likes
(

0

)
Dislikes
(

0

)