Potato crisis in Durgapur continues. In all the markets of Durgapur shortage of potato has created a situation where the buyers are left with no option but to pay much above the government rate of Rs 13 per kg.
Durgapur Sub Divisional Magistrate, Mrs. Kasturi Sengupta, held a meeting with the Agri-marketing officials and task force representatives yesterday to decide measures to stop wholesalers and retailers from forcing people to pay higher than the price fixed by the Bengal government.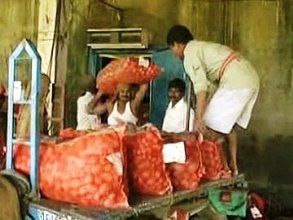 "We have asked the officials to intensify raids in markets and cold storages," said Mrs. Sengupta after the meeting.
After the six councillors of the Durgapur municipality visited the Benachity market on Wednesday (13 November) evening, to take stock of the situation over the soaring potato prices, situation seems to have worsened.
The Durgapur councillors faced the ire of the Benachity market wholesalers and retailers to which the TMC councillors warned the potato traders of stern action if they sell potato above the government rate.
After this threat most of the potato traders decided to go slow on potato selling. Though they have not stopped selling the tuber completely but the stock is limited and poor in quality.
At Station Bazaar, 20 retailers stopped selling potatoes protesting arbitrary prices charged by cold storage. A retailer, Mr. Sudip Chowdhury, alleged: "Local leaders of TMC are harassing us but they don't check the cold storages."
Police and task force officials later intervened and assured fair supply of potatoes.
Mr. Priodarshi Sen, assistant director, Agri-Marketing in Burdwan, said: "Burdwan requires an average 1,200 MT potatoes everyday. Since we have orders to provide 300 to 400 MT to Kolkata, the remaining areas in Burdwan don't get potatoes."
The officials provided 70 MT potatoes to Asansol in two phases after state Agriculture Minister Moloy Ghatak asked the officials for the same.
Meanwhile, Durgapur is left in the lurch and has to depend on potato-loaded lorries headed for Bihar and Jharkhand which are seized at Barakar check-post. "We don't have an alternate option for Durgapur," Mr. Sen said.
Yesterday evening the task force raided a cold storage at Panagarh and seized 15 MT potatoes.
At a time when the cold storages in Burdwan are charging Rs 15 per kg – Rs 2 more than the price fixed by the state, how can the retailers sell potato at Rs 13 per kg remains a valid question, to which there is hardly any answer.
The people of Durgapur are left with no option but to limit their consumption till normalcy is restored.
Likes
(

0

)
Dislikes
(

0

)