Durgapuja is just round the corner. The lively city of Durgapur is all geared up for the puja. Here we are trying to give a short account of some of the well known pujas of the town and what they are like to showcase in this year puja.
Nabaroon Sporting Club is celebrating its 44th year. The pandal this year will represent Akshardham Temple. The Mela surrounding the puja is an added attraction.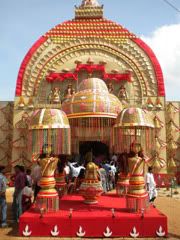 Durgapuja of Adi Bedi at DPL Township will be having "environment" as its theme. Lighting will be its special attraction.
Durgapuja of Marconi Dakshin Pally is celebrating its 51st year. Like every year it will be the centre of attraction of all the pujas in and around Durgapur. The pandal will represent the famous Somnath Temple of Gujarat. It is one of the most coveted puja of the district of Bardhaman.
Durgapuja of Club Santos at Bidhan Nagar is in its 41st year this year. It is one of the big budget pujas of Durgapur.
Though Durgapuja of Sepco Township is relatively new but has become one of the popular pujas of the town in recent time.
Pancham Pally Durgapuja at Edison is celebrating its 44th year. In the past few years this puja is fast gaining popularity and has surprised everyone.
This year, Chaturanga Puja Committee at City Centre is in its 24th year. The pandal will represent an ancient imaginary temple.
Durgapuja at Fuljhore is another most popular pujas of the town. This particular puja is known for its unique pandal and diversity in idol as well.
Durgapuja at David More in B-Zone of Steel Township is a surprise pack for the last three years. This old puja is again all set to attract large crowds. The pandal will be unique.
Likes
(

3

)
Dislikes
(

0

)