According to the latest media report, actor Ranveer Singh has contracted an infection and high fever while shooting for his upcoming film "Gunday" in Durgapur. After his return from Durgapur yesterday (September 26) he has been admitted in a suburban hospital in Mumbai.
Howe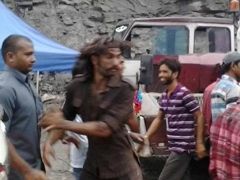 ver while staying in Durgapur for the shooting of Ali Abbas Zafar directed hindi movie "Gunday", Ranveer chose to continue to shoot as per the schedule in spite of the illness and discomfort, so as to not cause any inconvenience and loss to the production.
On his return to Mumbai he was diagnosed with a severe case of dengue fever. He is presently admitted in a suburban hospital. The 28-year-old actor underwent tests only after he was back in Mumbai.
Doctors were surprised and bewildered at the way Ranveer opted to carry on working in spite of the severe illness and discomfort that dengue brings with it. Currently, nothing can be said about how long the actor will take time to resume his work.
Although this might mark him a thorough professional, the excessive pressure and stress invigorated the matter to even worse conditions.
The Bollywood team has been staying in Durgapur for the last week to shoot Ranveer Singh, Arjun Kapoor, Priyanka Chopra starrer "Gunday" in nearby Kottadih colliery and was even spotted in the Junction Mall of Durgapur.
Just about two days ago, the chirpy and full on energy Ranveer Singh was seen to emote and do all the action during the shoting of Gunday at Kottadih colliery at a distance of about 20 Km from Durgapur. Sources said that Ranveer contracted an infection and suffered from bouts of heavy fever during the Gunday shoot but he still decided to carry on with his professional commitments.
Gunday is an upcoming Romantic Hindi film, written and directed by Ali Abbas Zafar and produced by Aditya Chopra. According to sources, the film's story is based on the lives of two small time thieves who later get involved in the coal mafia. The film is scheduled to be released on 14 February 2014.
Though it's not sure when the self proclaimed masochist Ranveer Singh gets well and return to work, we from Durgapur wish him a speedy recovery.
Likes
(

0

)
Dislikes
(

0

)