Like every year, Durgapur is abuzz with the mega fair (Mela) on the occasion of Ratha Yatra at Rajiv Gandhi Mela Ground. Though Ratha Yatra is not a typical festival of Bengalese, yet the kind of enthusiasm with which this festival is celebrated in Durgapur shows the cosmopolitan nature and mixed culture of the town of Durgapur.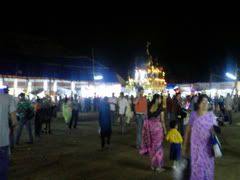 Rath Yatra is a huge Hindu festival associated with Lord Jagannath is celebrated every year at Puri with much importance. In fact Rath Yatra is one of the most prominent and celebrated Hindu festival. Often known as the "Festival of Chariot", the festival commemorates the annual journey of Lord Jagannath, Lord Balarama, and their sister Subhadra on three richly decorated chariots to their aunt's temple, the Gundicha Temple. During the festival, devotees from all over the World gathers at Puri with an earnest desire to help pull Lords' chariot considering it a pious activity.
This year the fair (Mela) began on 3rd July, the day when the festival of Ratha Yatra started and will continue till 14th July. However there are chances that it may get extended by few more days. Undoubtedly it is the largest fair of any form in and around Durgapur. The Mela is so large that one will find it difficult to visit each and every stall in a single day. Stalls of varied nature selling commodities of daily need, household items, decorative items, garments etc. along with food stalls are the main attractions of the Mela. Book fair adjacent to the Mela is an added attraction.
In spite of so many new malls which have recently came up in Durgapur, this particular fair draws huge crowd every year and in fact the whole of Durgapur waits for this Mela all-the-year round. For more than 15 years, this particular fair is being held at the same venue. People from all over Durgapur as well as from surrounding regions throng the Mela in large numbers. It is undoubtedly celebration time for the people of Durgapur.
Likes
(

3

)
Dislikes
(

0

)