Durgapur – the fastest developing city of west Bengal is witnessing steep rise in property prices in recent years. In some cases the price of land and property appreciated to such huge extent that it raises the eyebrows of many. The price of land is at such peak that flats and apartment culture is fast making its entry into the city. The massive infrastructural development work going on in Durgapur, like the new Airport at Andal, Software Park near Gandhi More, the four lane highway, various shopping malls at City centre have attracted the attention and imagination of many business houses and they are looking at Durgapur as a place to expand their business horizon.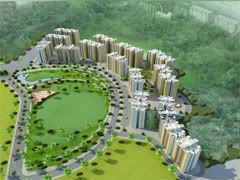 With the setting up of Big Bazaar, Dreamplex, Suhatta Mall, Spencer and the recent addition, Junction Mall with big names like KFC, Pantaloons, Shopper's Stop, Crossword, Max and many more, the lifestyle of the people of Durgapur has gone a sea change. The fact that the big names of retail industry are taking a keen interest in setting up their showrooms and retail outlets here speaks highly of the future prospect of Durgapur. Big and reputed automobile giants like Maruti, Hyundai, Ford, and Tata Motors have set up their showrooms in Durgapur recently are proof of the fact that Durgapur is growing at a fast pace. Reputed construction farms that are coveted names in real estate industry, like Bengal Shristi, Bengal Shrachi, Bengal Ambuja, DLF and Sahara have already made their forays or are on the verge of making Durgapur their new destination.
This cosmopolitan city with large aggregation of people from different culture makes it an ideal place for living not only for the Bengalis, but also for people of different community. To cater to the need of homes for the large expanding population of Durgapur, various local and reputed real estate farms and agencies are coming up with new and varied projects having flats and apartments of various sizes and taste. Many new residential complexes are fast developing in Durgapur with amenities of various nature. Both budget flats and high end luxurious apartments are being developed to meet the varied needs of customer. This has not only created competition among real estate farms but at the same time buyers are getting more options to choose from.
Likes
(

0

)
Dislikes
(

0

)