In spite of a completed runway, passenger terminal and air traffic controller office, the airport at Andal near Durgapur is yet to get the much needed clearance from the Director General of Civil Aviation (DGCA) for regular flights to commence. The DGCA has refused to give clearance for flight services because the high-tension power cables that criss-cross the runway haven't been removed yet.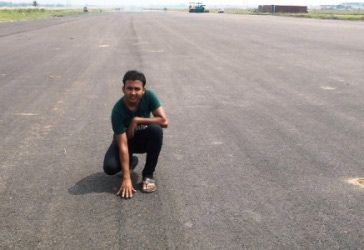 Recently (September 2) Kasturi Sengupta, the sub-divisional officer of Durgapur held a meeting with the additional district magistrate (land acquisition), officials of airport project promoter Bengal Aerotropolis Projects Ltd (BAPL), panchayat pradhans and police to draw up a plan to expediate the process of getting land for shifting the transmission towers from the villagers.
Six towers of the Damodar Valley Corporation (DVC) and the West Bengal State Electricity Transmission Company Ltd on both sides of the runway and cables that criss-cross the strip will not allow planes to land or take off.
After West Bengal Chief Minister Mamata Banerjee attended the naming ceremony of the airport on 19 September, which has been named after rebel poet Kazi Nazrul Islam, she instructed the Burdwan administration to find a prompt solution to the impasse.
A survey has already been conducted to help explore avenues for the shifting of high-tension power cables that are running through the Andal airport runway. BAPL requires around 70 acres in the Andal and Laodoha mouzas to shift the transmission towers. The company is willing to purchase the land directly from the owners but a section of villagers is reluctant, alleging that BAPL is more interested in real estate than in setting up the airport.
Last month, the Singapore government-owned Changi Airports International, who is a stakeholder in BAPL, requested the Bengal administration to help remove impediments in shifting the towers so that the airport that is part of the Rs 10,000-crore airport city project can be completed.
"The chief minister is keen to ensure that the first flight from the Andal airport takes off on Poila Boisakh (mid-April). We are trying hard to solve the land issue. It will take at least three to four months to shift the towers once land is available. We have requested the panchayat pradhans to convince the villagers to part with land. We are
in a hurry as we have only six months left," a district official said.
The start of flight services has been delayed five times already and instructions of the CM, its to be seen whether the deadline of 14th April 2014 can be met.
Likes
(

0

)
Dislikes
(

0

)