Agitation by villagers at Panagarh near Durgapur had led to work of road construction being stopped. Construction work of a road connecting a proposed industrial park at Panagarh with the Calcutta-Delhi NH2 has been stalled since last week, after about 900 farm labourers and share-croppers demanding compensation, locked the office of the construction company entrusted with the job of laying the road.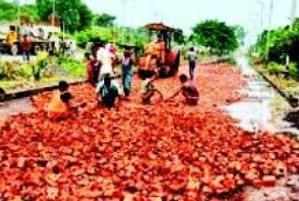 The group of agitated villagers has since May 16 locked up the site office of BLA Projects Private Ltd, the company which has been entrusted with the job of laying the 10 Km road connecting the industrial park with NH2 and a state highway at a cost of Rs 65 crore by the West Bengal Industrial Development Corporation (WBIDC).
The Left Front government had in 2008-09 acquired 1,458 acres of single-crop land in three mouzas of Kanksa and Ausgram II blocks at Rs 1.18 lakh an acre for setting up the industrial park, a project that aimed at attracting major firms as part of then chief minister Buddhadeb Bhattacharjee's industrialisation drive.
While the farm labourers were supposed to get wages for 250 days under the NREGA rate of Rs 100 perday, the share-croppers were to get 25 per cent of the value of the land they were cultivating.
Today, the protesters said only a section of the farm labourers and share-croppers in the area had received compensation, while most have been deprived. The agitators have submitted two lists naming 925 people who they said were deprived of the compensation.
The Burdwan district administration has said the lists would be "verified".
Likes
(

0

)
Dislikes
(

0

)