Rumours about a shortage of salt that had sparked panic buying of the essential commodity in Bihar, Jharkhand and parts of Bengal over the last three days reached the industrial towns of Durgapur and Asansol as well. Though the extent of panicky buying of salt didn't reached alarming heights in Durgapur and Asansol, but people were seen thronging the local markets to collect the kitchen essential at a relatively higher price.
The rumour originated in Odisha and Bihar a couple of days ago. By Thursday evening, panic buying started in Malda, North and South Dinajpur. Grocers took advantage of the rumours and sold packets of salt, priced at Rs 15/16, for Rs 70-100 a kg.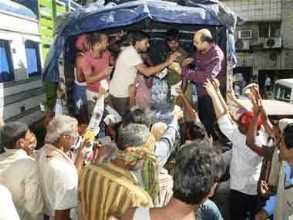 Such was the rush in Kolkata and the districts that most shops ran out of stock by mid-morning. The scenario was almost the same in the twin towns of Durgapur and Asansol. Those who turned up later fuelled the rumour that salt had indeed vanished.
The Bengal government has rubbished the rumours, claiming large stocks of salt were available.
But in the absence of interference and initiatives by local administration, salt prices reached to Rs 40 a kg in many markets of Durgapur and even in Asansol and Burdwan. Grocers took advantage of the huge demand and started selling them at higher price, telling that here in Durgapur its now cheap as compared to other parts of North Bengal and other Eastern states.
In the absence of any vigilance by local administration it was almost a free zone for grocers and salt traders here in Durgapur.
Ruling out any possibility of shortage of salt in any part of the country, the Salt Commissioner and the salt traders' body Indian Salt Manufacturers' Association (ISMA) maintained that there was enough salt in the country to feed the consumers and the rally in prices was artificial.
Taking a strong objection to the rumors about a shortage of salt, which spiraled the salt prices and even created a law and order problem in parts of Eastern India over the past couple of days, ISMA officials informed that every state gets salt as per the quota fixed by the salt commissioner, and there was enough salt to cater to the demand.
here is no scarcity at all in the country. Most of the states have nearly 20-50 per cent of excess storage of salt than their requirement. ISMA officials also informed that even if there is a shortage, they are capable to supply it to any part of the country within 3 days with the help of railways.
Though salt is still selling at much higher price but hope good and logical sense comes back and the most essential food ingredient comes back to its normal price.
Likes
(

0

)
Dislikes
(

0

)