At a time when entire Bengal is witnessing a steep rise in incidents of rape and molestation, the industrial town of Durgapur has not been left out either. After the incident of the rape of a middle aged woman in September last, a case of child molestation has surfaced at Busudha village under Kanksa police station, nearly 35 Km from Durgapur's city centre.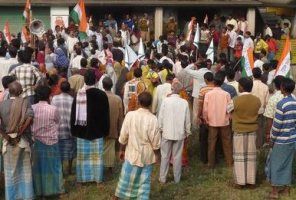 A taxi driver of the village alleged that his seven-year-old daughter has been molested by a private tutor, Susanta Chakrobarty, who is a known Trinamool loyalist. The father of the victimized girl has lodged a police complaint accusing three TMC activists of offering him Rs 50,000 at a kangaroo court and asking him not to inform the police.
According to the complaint at Kanksa police station, Trinamool activists Shibu Saha, Uttam Bhandari and Kebu Banerjee had on Tuesday organized the kangaroo court in Busudha, near Durgapur, where they made the offer to the girl's father. They said the accused had "apologised" in writing.
"I told the Trinamool workers that my daughter's tutor had molested her and he should be arrested. They asked me not to approach the police as that would attract media attention and malign my daughter's image. They said it would become difficult for me to stay in the village," the father said.
Although the three Trinamool workers could not be contacted, the Kanksa leadership of Trinamool confirmed their allegiance to the party. "Shibu Saha, Kebu Banerjee and Uttam Bhandari are our party activists. I will inquire into the matter and ask the police to take immediate action," said Kanksa block president Debdas Bakshi.
Today, Kanksa police has arrested Susanta Chakrobarty. Villagers of the Busudha village univocally said that the accused has married five times, although his earlier four wives have no trace.
Likes
(

0

)
Dislikes
(

0

)