After SFI supporters assaulted state finance minister Amit Mitra yesterday in front of Yojana Bhaban and accompanying chief minister, Mamata Banerjee threatened the CPM with dire consequences in Bengal, Trinamool Congress supporters went on a rampage by attacking several CPM offices in the districts.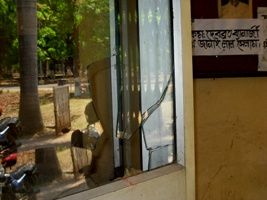 The industrial town of Durgapur was not left out either. As many as seven CPM party offices in Durgapur were attacked by Trinamool supporters. Pre-planned road side meetings of CPM had to be cancelled as Trinamool supporters started giving threats.
Ashis Jabbar Bhaban, the CPM party office in the heart of the steel town of Durgapur was attacked by 10 to 15 TMC supporters. Those present inside the party office somehow managed to close the front collapsible. TMC men started pelting stone, breaking the window pane. They also damaged the vehicles present in front of the party office.
The CITU office in the steel town, B.T.R Bhaban was attacked in the mid night. Several window panes were shattered, party flags of CPM were torn and the sign board was damaged.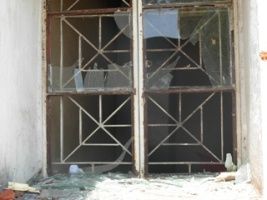 Party office of CPM in Harshabardhan Road of the Steel Township was set on fire by TMC supporters. Another party office at Ranapratap Road of the steel township was attacked.
The CITU office of Durgapur Chemicals was attacked by TMC goons. One of the sector office in Bidhan Nagar was locked up by TMC supporters. Party offices of CPM were also attacked in Fuljhore, Kaligunj and Bharati More. The DPL party office of CITU was also attacked. In all the CPM offices TMC hooligans warned cadres against carrying on further political activity. In all the party offices, the picture remained the same, chairs and tables in the offices were broken, ceiling fans yanked off, television sets damaged beyond repair.
With the instances of backlash in Bengal escalating, chief minister Mamata Banerjee called up industries minister, Partha Chatterjee to issue the peace appeal. Later tonight, Chatterjee said, "The chief minister called me up to tell our party workers that they can hold protests against the attack but peace has to be maintained."
The CPM state secretariat held a meeting at Alimuddin Street this evening to take stock of the situation. Leader of the Opposition Surjya Kanta Mishra appealed to his party cadres by saying, "We must ensure that our cadres do not get provoked by the attacks on us."
Likes
(

0

)
Dislikes
(

0

)