Over the years, Durgapur has evolved as a major educational hub of West Bengal. After Kolkata, Durgapur is undoubtedly the only place in West Bengal where one finds so many schools, colleges (engineering, management and degree) and educational institutions. The list is long and seems to be never ending.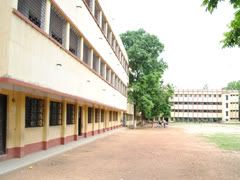 Among the premier schools of Durgapur, St. Michael's School at Bidhan Nagar is one of the best in the town. This co-educational school with strength of over 3500 students was established in 1966. Over the years this ICSE affiliated school has grown into a prestigious educational institute catering to the need of not only the students of Durgapur but also of the adjoining areas as well.
A recent venture by the school to provide free education to under-privileged children has been widely appreciated from all corners of the society. A school for poor and under privileged students, "Udaan" was set up within the school campus in June this year. For this purpose a new floor with more classrooms was inaugurated in April this year.
Udaan – the school for the under privileged students who cannot afford to read in school is run in the afternoon. Senior students and staff members voluntarily teach the students. This humble endeavour of the school to provide wings to these flightless children so that they too can experience the joy of learning, of giving expressions to their creative minds is undoubtedly a lesson to the society.
Other premier schools of the city need to follow the footsteps of St. Michael's school in this regard. Though most of the schools of the city of Durgapur has few seats in every class for the students of the weaker sections of the society, but this concept of setting up a dedicated school for the under privileged within the school campus is undoubtedly a noble step to follow. Moreover senior students volunteering for this school gets a chance to do something noble for the society as well.
Likes
(

2

)
Dislikes
(

0

)