Arunava Dutta, a student of Guru Teg Bahadur Public School (GTBPS) of Durgapur recently visited Japan on a cultural exchange programme under JENESYS (Japan – East Asia Network of Exchange for Students and Youths). Arunava, a class XII (twelve) student of the school was the lone participant in the programme from not only his school but also from Durgapur and the adjoining area as well.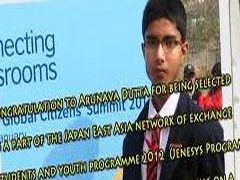 JENESYS is a project initiated by the Japanese government from the standpoint of providing a sound foundation for strong solidarity within Asia through large-scale youth exchange. At the Second East Asia Summit (EAS), which was held in January 2007, Mr. Shinzo Abe, the then Prime Minister of Japan, announced a plan to implement a 35-billion-yen youth exchange programme, inviting about 6,000 young people to Japan mainly from the EAS member states (ASEAN, Australia, China, India, New Zealand, the ROK) every year for five years. The programme was launched with a view to deepen to deepen mutual understanding among young people who will assume important roles in the next generation in each East Asian country.
Arunava Dutta, along with two other students of Guru Teg Bahadur public School was initially nominated by his school for the programme. It was Arunava only who got selected for the Japan tour from his school through a selection programme held in New Delhi. On June 3rd, Arunava, along with 92 students and 8 teachers from across India left for Japan by a Japan Airlines flight.
During the nine day tour they shuttled between Tokyo, the capital of Japan and Yokohama, the second largest city of Japan. The students of the Yokohama University were very keen to know about India. It was a wonderful experience for Arunava and his friends visiting the Tokyo Tower, Sky Tree, Aqua City Odaiba among others. Their experience of boarding the famous "Bullet Train" of Japan was nothing less than "Spine Chilling". But for Arunava, the most heartwarming experience was the two night stay with a Japanese family in Yokohama.
For a boy of a middle class family whose remotest relatives have never made it to abroad, this will definitely be an example which other students of not only his school but other school's of the region will try to emulate. Credit must be given to his school, Guru Teg Bahadur Public School for provided the necessary platform for this boy.
Likes
(

2

)
Dislikes
(

0

)