Incident of violent clashes between seniors and juniors over alleged ragging in Bengal College of Engineering and Technology in Durgapur injured five. Ten students of the private engineering college in Durgapur were arrested on the night of August 4, in connection with the clash and damaging the institution's property.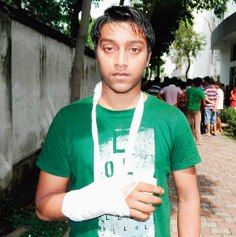 Different versions for the clash were put forward by students of different years, while the college sources though initially declined to accept it as a fall out of ragging, ultimately asked the Anti-Ragging Committee of the college to inquire into the matter and table a report at the earliest.
Some first-year students of Bengal College of Engineering and Technology said the clash took place after they resisted attempts by seniors to rag them in the hostel. First-year students elaborated, by saying that a group of second, third and fourth-year students came to their rooms around 11 last night.
"The seniors had been coming every night to rag us since classes started on August 20. We had informed the hostel warden but nothing was done. Last night, we resisted for the first time, following which a clash broke out. The seniors attacked us with hockey sticks and fragments of windowpanes," said Pintu Kumar, a first-year BCA student from Dhanbad who left for home today.
One of the first-year student, Pawan Kumar Das, lodged a police complaint of ragging but did not mention any name in the FIR.
Hostel warden Mihir Goswami denied the charge of ragging and said the clash broke out because the first-year students had "taunted" their seniors during a power cut.
"There was a power cut around 11 pm. Taking advantage of the darkness, some first-year students (who stay on the ground floor) taunted their seniors (who live on the first and second floors) and called them names. The seniors became angry and a clash ensued," Goswami said.
The college authorities, who have denied the allegation of ragging, lodged an FIR accusing students of damaging property and breaking discipline. The 10 students — eight from the first year and one each from the third and fourth years — were granted bail yesterday.
The college has lodged a complaint of rioting against the students and the police, according to Mr Vinit Goel, Commissionerate of Police, Asansol Durgapur Police "has registered a case of ragging against unidentified students. An inquiry has also been initiated to help identify the offenders."
Five students were injured, including Pawan Kumar Das who had to be given 12 stitches on his right hand. Four of the latter – Udit Nayaran Jana, Arnab Kumar, Sumit Ghatak and Kumar Anubhav were discharged by the private hospital yesterday morning.
Biplab Basu Thakur, the manager (administration) of the college, said: "Last night, two groups of students clashed over some issue, leaving five of them injured. We rushed them to hospital. All of them were released after primary treatment. We do not think it was a case of ragging. Our anti-ragging committee will inquire into it."
Even strong anti-ragging laws have not eradicated ragging in colleges. To eradicate ragging, the Supreme Court has set guidelines for setting up a Central Crisis Hotline and Anti-Ragging database. In keeping with the directives, UGC had started national anti-ragging helpline (UGC Crisis Hotline) and started maintaining a record of registered complaints received, and the status of action taken.
But it's unfortunate that the college authorities hardly take initiatives so that this numbers get to the students. Most of these private colleges with the fear of getting a bad name for themselves hardly acknowledge incidents of ragging to have taken place in their colleges.
Ragging has ruined countless innocent lives and careers. Its time every one of us take some initiatives to stop incidents of ragging so that precious lives are not lost or injured.
For any incidents of ragging in any part of the country, students can directly call at the given number, any time of the day. National Anti-Ragging Helpline (UGC Crisis Hotline) – 24×7 Toll Free Number* 1800-180-5522.
Likes
(

0

)
Dislikes
(

0

)