Death of a young teacher in a Durgapur Steel Plant-owned swimming pool yesterday (30 September 2013) has sparked off a sensation in Durgapur. This was the third drowning-death in the pool. The swimming pool is in the Steel Township of Durgapur and is maintained by a private operator to whom the pool had been leased in 2006.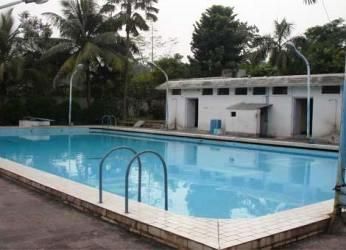 Thirty-three year-old Rajesh Jain of Kanchannagar in Bhagalpur district of Bihar had been swimming in the same pool for the last six months. Rajesh, a teacher at a professional coaching centre in Durgapur went to the pool as usual yesterday and while swimming fell ill and got drowned.
The pool staff recovered Rajesh from the pool and took him to the Durgapur Sub Divisional hospital, where the doctors declared him "brought dead". He succumbed before being taken to hospital.
Within an hour, Jain's colleagues and relatives rushed to the pool and started an agitation, alleging negligence and a dearth of infrastructure at the pool which, according to the agitators, has consistently been causing the death of the swimmers.
Mr. Sanjay Jhunjhunwala, a kin of the deceased, said: "The swimming pool doesn't have an adequate life-support system, which is essential as such incidents are happening frequently here." He added: "The pool authority dumped the body in front of the Durgapur SD Hospital and fled. The operator should be grilled immediately on criminal charges."
On 19 April, 2012 a 40-year-old Gynecologist with Durgapur Steel Plant's Main Hospital, Swarnarenu Mukherjee, fell sick while swimming as water entered his trachea by chance. He was rushed to a private super-specialty hospital and died the next day.
On 6 June, 2007 an accounts department executive with the DSP, Subhajit Roy Chowdhury (46), also drowned while swimming in the pool.
The mayor, Durgapur Municipal Corporation, Mr. Apurba Mukherjee, also said he suspect that a dearth of logistic support was causing frequent casualties at the badly-maintained swimming pool.
SAIL's Durgapur Steel Plant authority has waked up to the serious concern and according to Mr. B R Kanungo, DGM, Communications: "We would sue the operator as the deaths apparently were caused due to negligence on their part, as has been revealed." He also said that an expert committee will look into the necessary infrastructural lacunae of the pool and promised of corrective actions as well.
According medical science experts, deaths in swimming pools may not be due only to drowning. There are two medical conditions, according to experts, which result in sudden death even before drowning occurs. These two conditions are hypertrophic cardiomyopathy and cardiac channelopathies.
Likes
(

1

)
Dislikes
(

0

)