Once again large dark cloud has surfaced over the almost completed airport at Andal of Durgapur. The completion of the airport is in its last phase but high tension lines across the runway have put the necessary approval from DGCA on hold. Six power transmission towers have to be shifted immediately for getting the approval from the nodal body so as to start flight operation from the Kazi Nazrul Airport at Andal.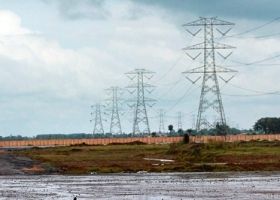 Villagers whose land has been identified for acquisition to shift power transmission towers standing in the way of the completion of the airport and the allied airport city project in Andal walked out of a meeting the administration had called on 26th October to break the deadlock.
Around 400-odd farmers, who had come to attend the meeting in Patshaora village with officials of the Burdwan district administration and project promoter Bengal Aerotropolis Projects Ltd (BAPL), protested when the block development officer of Laudoha tried to convince them to part with their land so that the six towers could be shifted from near the runway.
Basudeb Gorai, a farmer who led the group, told BDO Manish Sharma: "Why are you asking us to give up our land when we have clearly refused to do so in several meetings in the past one year. The company (BAPL) is only interested in real estate and not setting up the airport. The Trinamool government is against forcible land acquisition."
Gorai and the other villagers threatened to beat up BAPL officials. "We will beat up BAPL officials and cut off their legs if they try to lay foot on our land," Gorai said.
The agitated villagers walked out of the meeting, shouting slogans against BAPL and the administration.
Moments earlier, Ujjwal Mondal, the Trinamool chief of the Patshaora panchayat, had urged BDO Sharma to call off the meeting as the farmers were unwilling to part with their land.
A BAPL source said company representatives would meet the chief minister.
The project, which has already missed several deadlines, was supposed to come up in December 2012.
It now seems that the BAPL authority have to explore the option of laying the transmission cables through underground route which is undoubtedly a costly and time consuming affair as well.
Trinamool Congress which came to power in Bengal riding on the wave of land acquisition movement is now finding it difficult to acquire land even for development that are meant to provide basic amenities to the citizen, like road, electricity, airport and others.
Likes
(

0

)
Dislikes
(

0

)