A girl student was allegedly beaten up by an Assistant Sub Inspector of Durgapur police at "Panch Matha More" (five road crossing) near Benachity market of Durgapur on Friday evening.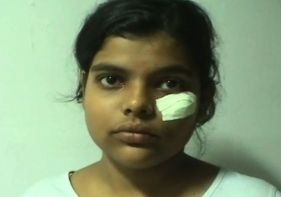 Media report says that the local girl, Smriti Singha driving a bike somehow lost control and hit a man who was also somewhat unmindfully talking in his mobile with someone. Now this man who was hit by the two-wheeler of Smriti Singha was none other than the Assistant Sub-Inspector of Durgapur police station, Mr. Arjun Dutta.
After being hit, the ASI, Mr. Dutta started beating up the girl indiscriminately. He slapped her, punched her and virtually pounced on her.
Smriti had to be admitted in the Durgapur Steel Plant hospital with severe injuries. Smriti's family lodged an official complaint in Durgapur police station.
Meanwhile police sources have said that they are inquiring into the matter. They also said that it will also be seen whether the girl had a valid licence or not. If required police will also file a complaint against the girl, added the police in Durgapur.
This is not the first time that the role of police in Durgapur had been put into question.
But unexpectedly this incident has not been widely reported in the media in spite of the fact that the incident occurred in the very heart of the town and there are quite a large number of local media houses. However, ABP Ananda did reported about this unwanted and somewhat undesirable incident.
Likes
(

0

)
Dislikes
(

0

)