Panagarh near Durgapur witnessed another road accident yesterday, in which three passengers were killed and around 30 were injured.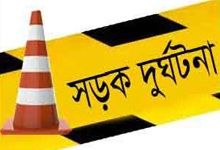 One may recall that on 27 August, this year a massive road accident killed nine passengers at Panagarh, when a Durgapur bound bus trying to evade a huge pothole lost control, swerved off the road and overturned to fell into a ditch.
The same kind of accident happened yesterday as well but at a different spot in Panagarh. Yesterday, a Durgapur bound bus left Bolpur at around 4:30 p.m. and was travelling across the Panagarh – Morhgram State Highway No 60. The highway, on account of the incessant rainfall has developed numerous potholes, and the driver, in a bid to evade a particularly rough patch, made a sudden swerve and lost control of the vehicle, which toppled.
Three passengers sitting in the crew cabin died on the spot and 30 others were injured. The bodies were shifted to the Kanksa Police Station and the injured were rushed to the Durgapur SD Hospital. The hospital sources said that the condition of four was critical.
The locals immediately helped to rescue the victims before the police could arrive. The SP, Burdwan, Mr S M H Meerza said: "The driver of the bus managed to escape from the scene."
Poor road condition of both NH 2 and NH 60 near Panagarh is something which is a matter of serious concern that the administration must look into with utmost urgency, or else this kind of road accidents will continue to take lives of citizens.
Likes
(

1

)
Dislikes
(

0

)