Three Trinamool Congress supporters were severely injured in an explosion while preparing bomb in a village adjoining Durgapur Steel Township, yesterday afternoon. The explosion occurred at 4 p.m. yesterday in Arati village of Durgapur. The injured have been hospitalised.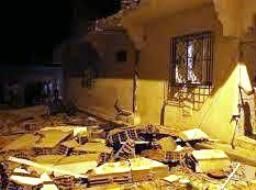 Mr Sheikh Azimuddin – secretary of INTTUC's contractor labour union at SAIL's Durgapur Steel Plant and two of his aides -Mr Arindam Ghosh and Mr Sheikh Manibul were severely wounded at the explosion. The hands of Manibul were blown off and Azimuddin sustained severe splinter injuries in his eyes. Arindam's face was charred in the explosion.
The police raided the locality and interrogated the injured persons. Police has seized large amount of explosives that are used for making bombs. Primary investigations revealed that the bombs were prepared to unleash attack on the farmers unwilling to sacrifice land for the proposed airport and Aerotropolis in Andal.
In several earlier incidents of INTTUC infighting the name of Sheikh Azimuddin had came up earlier also.
Fresh protests by farmers at Andal near Durgapur has already put a big question mark on whether the almost completed airport will be able to meet its fifth deadline for commencement of flight operation on 14th April 2014.
INTTUC district president Mr. Prabhat Chatterjee has denied the involvement of TMC supporters in the incident.
Likes
(

1

)
Dislikes
(

0

)