Six Trinamool councilors of Durgapur Municipal Corporation (DMC) stormed into the Vegetable market of Benachity Bazaar in Durgapur yesterday (13 November) evening, to see whether the traders are selling the tuber at the rate fixed by the government.
The TMC councilors were accompanied by representatives of Durgapur Chamber of Commerce.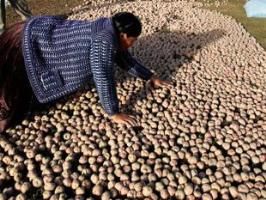 On seeing that the retail traders are selling potato at Rs 17 to 18 per kg, the TMC councilor's asked the traders to sell the tuber at Rs 13 per kg and warned them of stern action if they failed to do so. To this the traders protested and said that they were not in a position to sell potato at the government rate of 13 per kg as they were buying 50 kg bags of the tuber from wholesellers at Rs 700 to 750.
Heated exchange of words ensued between the TMC councilors and the traders. The traders even let the councilors know that they will have to shut their shops if they are forced to sell potatoes at a loss. However the traders said that if Trinamool councilors can arrange potatoes at Rs 500 to 550 per 50 kg bags, then they have no problem in selling the tuber at the rate fixed by the government.
The chief minister has already ordered a crackdown on potato retailers who sell their products above the government rate of Rs 13 a kilogram. Even The local TMC offices made arrangement to sell potato at the government rate for some days in the past.
But even this has not seen potato being sold at any markets of Durgapur below Rs 15 per kg.
However after the crackdown, prices of potato dropped from its level of 17 per kg to 15 per kg. But again today in Benachity Bazaar potato was seen selling at Rs 18 per kg.
In Chandidas Market, Ashis Market, Mamra Bazaar the tuber is selling in the range of 17 to 18 per kg.
In most of Durgapur markets potato stock is low. Many retailers have stopped selling potato for the time being.
The traders of all the Durgapur markets even warned of a further price rise as the there has been a surge in potato prices on Wednesday with wholesale price at the cold storage point touching Rs 750 per 50-kg bag. Prices increased after the state government softened its stance on potato export and said traders can export after getting permission from the state government.
Likes
(

0

)
Dislikes
(

1

)