Once again an incident of violence and atrocity within Trinamool Congress rocked the industrial town of Durgapur. A Trinamool Congress party worker yesterday alleged that a well known Trinamool Congress leader has slit his wrist.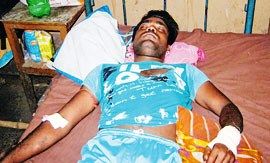 Ashok Jana, the Trinamool leader who looks after the INTTUC union at the boiler-manufacturing Alstom factory in Durgapur has allegedly slit the wrist of Basudeb Mahato, a 27 year old youth of Subhash Pally Durgapur. Mahato, an active party worker of Trinamool Congress has been admitted in the sub-divisional hospital of Durgapur.
From the hospital bed, Basudeb said, "My father used to work at the Alstom unit. He died of a heart attack on this day last year. Ashokda, who is the leader of INTTUC at Alstom had promised me a job at the Alstom unit and taken Rs 40,000 from me in January."
Basudeb further added, "I contacted Ashokda several times but he said he would not be able to arrange for the job. Yesterday was my father's first death anniversary and I needed money to perform some rituals. When I went to the party office and requested Ashokda to return the money, he assaulted me and slashed my left wrist with a blade."
After this incident, the news spread like a wild fire and Trinamool workers and supporters from Subhashpally and surroundings rushed into the INTTUC office at Alstom and beat up Jana, the accused leader.
Basudeb said he had complained the matter to Durgapur Mayor and local MLA, Apurba Mukherjee. "I have received the complain and will enquire into the matter," Mukherjee said.
Meanwhile, police has arrested the alleged Trinamool leader, Ashok Jana and one of his close aide.
Likes
(

0

)
Dislikes
(

0

)