Durgapur Steel Plant (DSP) is abuzz with the forthcoming Trade Union Recognition election be held on 9th September 2011. The election will decide as to which trade union will be the sole bargaining agent. Although in a situation where any single union fails to get more than fifty percent vote, a joint bargain council will be formed where all the unions getting more than ten percent of vote will participate. However, in this situation, the union getting highest percentage of vote will be the principal bargaining union.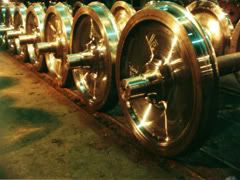 The last union recognition election was held in 2004. In that election, HSEU (CITU) managed to get 48 percent of votes and emerged as the principal bargaining agent in the joint bargain council. HSWU (INTUC) got 43 percentage of vote and emerged second.
But it is a completely changed scenario now. After the recently held assembly election in May 2011, Trinamool Congress backed INTTUC has emerged as a new power. Defeating the left front government in the state after 34 years and winning both the assembly seats of Durgapur bolstered the TMC leadership to participate in trade union election to be held on 9th September. In spite of thumping win in both the seats, the INTTUC leadership is well aware of the fact that it will not be easy to win this election and emerge as the sole bargaining agent. The fact, that they will not only have to fight against the CPIM backed trade union CITU (which has a large and strong support in DSP), but will also have to face the strong resistance of the Congress backed trade union INTUC, who were their allies in the recently concluded assembly election.
This trade union recognition election has assumed a great significance it will be the first election in this industrial town after the assembly poll of May 2011. Wheather the last assembly poll win of TMC were merely a fluke, riding the Mamata wave or the result of a massive erosion of left vote bank is to be seen.
The recent statement of Mamata Banerjee, the TMC supremo and the chief minister of Paschimbongo that she is against all kinds of Strikes and Dharnas and the state Government is thinking to put a ban on Strike, may not be taken very well by the working class of the entire state. Workers of DSP who does have a long history of struggle have participated in many Strikes and Bandhs may well distance itself from this kind of statements where there is a talk of curbing their basic rights.
However, the workers of DSP, who are mostly educated and politically sensitive knows how important, this election is, considering that the next wage board is due from 1st January 2012. So they will definitely vote for that union who will fight strongly for earning their benefit.
Likes
(

2

)
Dislikes
(

0

)