Civic Police Volunteers engaged by the Asansol Durgapur Police Commissionerate (ADPC) have allegedly been causing inconvenience to both police and the public in recent times, as they have been caught trafficking illegal coal, assaulting members of the public and have even been accused of murdering pedestrians.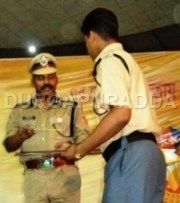 ON Friday, (July 26), police arrested two Civic Police Volunteers Force (CPVF) personnel – Amit Ghughu and Bijoy Pal, on charges of assaulting three software engineers, Mr Chandan Dey, Mr Kumar Saurabh and Mr Shantu Bera.
Amit Ghughu is the son of Trinamool Congress councillor for ward No 10 of the Durgapur Municipality Corporation.
According to police, the engineers were on their way back home from work and were caught by the CPVF men near the Women's College crossing.
"The two youths on a bike overtook our bike and stopped us. They claimed to be policemen. When we told them to show us their identity cards, they accused us of drink-driving and demanded a bribe of Rs 1000," said Chandan Dey, a software engineer. De and his colleagues Kumar Saurav and Shantanu Bera were returning home to Raghunathpur adjacent to Durgapur's steel township.
Mr Dey alleged: "We were on a bike and had valid licence, and vehicle papers. After checking them, they asked for papers of the laptop which my colleague was carrying in his bag."
Mr Bera said: "We said we were executives of a company but they asked to deposit the laptop with them, which we refused."
"When we refused to pay them, they kicked and punched us," De said. He was taken to the Durgapur Steel Plant Hospital owing to head and chest injuries.
The police charged Amit Ghughu and Bijoy Pal of wrongful restraint, voluntarily causing grievous hurt and intimidation. The Additional Chief Judicial Magistrate's court on Friday, granted bail to the both CPVF men. The
Asansol Durgapur Police Commissionerate (ADPC) however has dismissed both the Civic Police Volunteers.
Mr Ajay Nand, CP, ADPC said: "We have dismissed them for their highhanded behaviour. Last year we had dismissed a CPVF man in Raniganj after his involvement in illegal coal trafficking was exposed."
Two more CPVF men, meanwhile, are still under the scanner after they have been accused of killing a masonry helper in the town.
ACJM, Durgapur, Kazi Abul Hashem himself has been conducting an inquiry into them following an instruction by the National Human Rights Commission.
Mayor, Durgapur Municipal Corporation, Mr. Apurba Mukherjee said: "The CPVFs' unruly attitude is causing inconvenience to the common people and we have received several complaints in this regard."
Trinamool councillor Krishna Ghugu however refused comment. "I will not speak on this as I am busy with party activities," she said.
The Trinamool youth wing president in Durgapur block I, Pintu Dutta, said: "It was a small incident and need not to drag media's attention. Amit was drunk and got involved in an untoward incident. We are negotiating the matter with the complainants."
The Asansol Durgapur Police Commissionerate (ADPC), in the first phase, had engaged 1,000 such CPVF personnel in 2012 and 3,000 after March 2013 paying them a paltry daily wages of just Rs 141.82.
But areas like Asansol, Durgapur, Raniganj have started witnessing the ugly results of the hurried recruitment of CPVFs as the latter, within a year, have started imagining themselves to be "more than a policeman". They harass people and physical assault civilians for petty faults. Political parties, too, have started raising their voices against the "excesses" of the CPVF. Many feel that the paltry sum is forcing them to take unlawfull routes to collect money using their uniform and the label of "police".
Likes
(

0

)
Dislikes
(

1

)